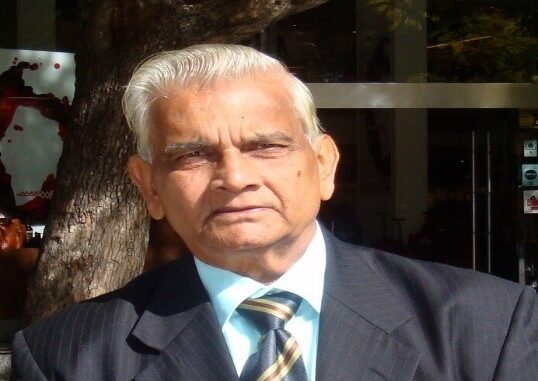 PRADIP DAVE
Born in 1943, after his Science graduation from Mumbai University, Mr. Pradip Dave started his career in the year 1965.
Pradip Dave is an Entrepreneur – Chairman of AIMCO Pesticides Limited, an agrochemical company engaged in the field of Agrochemicals manufacturing, Formulation and marketing for last more than 45 years. The company is one of the major players in Insecticides, Fungicides & Herbicides in India and exports its products to major markets in the world.
Pradip Dave is President of Pesticides Manufacturers & Formulators Association of India (PMFAI), a national level Association representing Agrochemical Industry in India with more than 200 companies as its members. He is President of PMFAI for last more than 25 years.
Positions held in various bodies (present & past)
As he was devoted his career to Agrochemical Industry and is President of PMFAI for last more than 30 years. Because of his efforts and foresight, PMFAI is now one of the leading Associations of the Pesticide Industry.
Chairman – Confederation of All India Small & Medium Pesticides Manufacturers Associations (CAPMA) from the year 2008. 
Member – Governing body of Institute of Pesticide Formulation Technology (IPFT) since its inception in 1991. IPFT is an institute functioning under Ministry of Chemicals & Fertilizers, Govt. of India, working towards developing safer, efficient and environment friendly pesticide formulations. 
Former Vice Chairman (2007-2011) – CHEMEXCIL (Basic Chemicals, Cosmetics & Dyes Export Promotion Council) set up by Ministry of Commerce & Industry, Govt. of India. 
Founder Member of CHEMTECH Foundation (established in 1975), a leading industry association for creating platforms for business interactions and strategic alliances across the verticals of Chemicals, Oil & Gas, Refining, Engineering Procurement & Construction, Automation & Process Control, Pharma & Biotechnology, Water, Shipping & Maritime, Power & Infrastructure. 
Former Executive Chairman, Society of Chemical Industry (SCI) for India region (2006-2008). 
For last 7 years, Mr. Pradip Dave is on the Panel of Judges for AGROW Awards, global awards recognizing advances in technology and innovation in Agrochemical Industry worldwide.