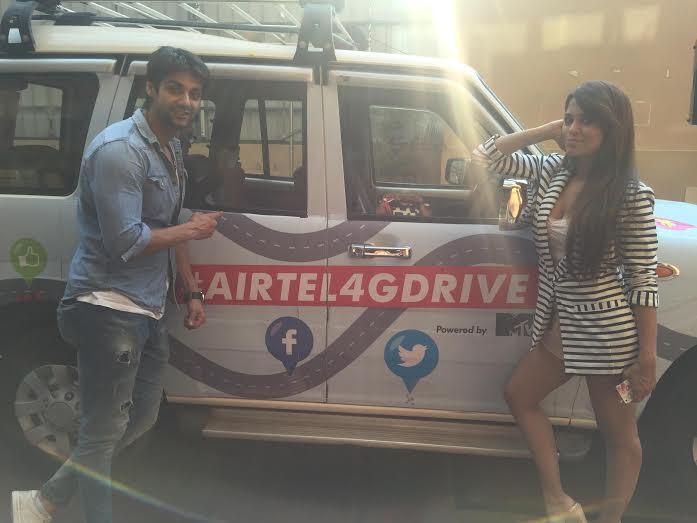 Airtel, India's largest telecommunications services provider, today announced that India's first "Social Car" made a pit stop at Hyderabad. A trio of popular TV Actor Karan Wahi, MTV VJ of 'Student of the Year' fame Sana Saeed, and MTV's  Zerxes Wadia were joined by food blogger Adarsh Munjal to soak in the culture of Hyderabad.
 In an exciting initiative, the Airtel Social Car, which runs on social media conversations is undertaking a journey from Mumbai to Kolkata, today reached 700 kms on route to its destination.  What sets Airtel Social Car apart is the fact that it is powered by conversations around the hashtag #Airtel4GDrive across digital platforms like Facebook, Twitter and Instagram. The more the conversations, the farther it goes.
The trio of Popular TV Actor Karan Wahi, MTV VJ of 'Student of the Year' fame Sana Saeed, and MTV VJ  Zerxes Wadia are part of this exciting road trip. During this adventure filled journey, the team will continue to be a part of the social media conversations and post exciting content from their road trip. The team will make pit stops in Hyderabad, Vishakhapatnam and Cuttack and reach Kolkata on April 15, 2016.
FMCG Products for Your Business
In Hyderabad the team was joined by food critic Adarsh Munjal of the 'The Big Bhookad' fame, who helped them indulge in the Nizami culture of the city and have a savoring gourmet experience with fans at popular eateries.
 Venkatesh Vijayraghavan, Chief Executive Officer, Andhra Pradesh & Telangana, Bharti Airtel Ltd, while flagging off the team said, "At Airtel, innovation is an essential part of our cultural fabric. The mission of taking up a 4G Drive through India's first Social Car is another testimony of our desire to constantly innovate. We are super excited to welcome the Airtel Social Car crew here in Hyderabad. Digital conversations today fuel our lives and I am sure the Social Car will be fuelled enough to travel through the scenic stretch from Telangana to Andhra Pradesh. I wish the team all the best and an exciting journey ahead. Keep the social conversations flowing in at #Airtel4GDrive."
The Social Car will continue its 4G Drive today to reach their next pit stop at the city of Destiny, Vizag.