Dulux SuperCover- Colours of the World voted Product of the Year 2016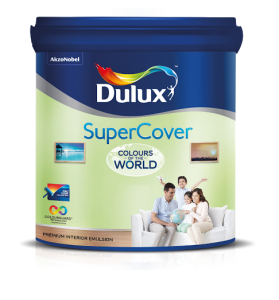 Dulux SuperCover – Colours of the World from Dulux, the flagship Decorative paints brand from AkzoNobel has been adjudged as Product of the Year 2016 by Nielsen India. One of the largest surveys for product innovation (co-conducted by 'Product of the Year' and Nielsen) pronounced 'Dulux SuperCover – Colours of the World' as the best product in the paints category. The survey was undertaken with 7000 respondents in direct face to face interviews. The wide outreach, diversity and methodology of the survey is a testament to the authenticity & thoroughness of the process. In the same category, Dulux SuperClean was the winner in 2014.
Dulux has a strong portfolio of exterior and interior products. A premium interior emulsion, Dulux SuperCover – Colours of the World gives the choice to consumers for bringing the colours of their favourite world's travel destinations to their homes.  It is a collection of nine palettes crafted by Global Dulux colour experts and offers consumers a chance to decorate their dreams into reality. The ColourGuard Technology ensures the magical feeling of the dream destinations lasts longer. Coupled with the new 'ProCoat Technology' it gives customers maximum opacity and coverage.
Rajiv Rajgopal, Director, India and South Asia Cluster, Decorative Paints, AkzoNobel, said, "Recognition of Dulux for the second time at this globally recognised platform clearly highlights the brand's strong thrust on product innovation, defining best in class quality and international standards. Dulux SuperCover 'Colours of the World' is inspired by the colours and moods of some of the most beautiful landscapes around the world. It offers a palette that makes it convenient to select colours and colour combinations to create that specific atmosphere of an inspiring destination."
In its seventh year now, Product of the Year is an internationally recognized certification that celebrates and rewards the best innovations in consumer products and services. Product of the Year is an independent process that allows the consumers to evaluate new product offerings. The voting is done by discerning consumers who evaluate the innovations in a face-to-face consumer survey conducted by Nielsen and choose only the best as "Product of the Year".