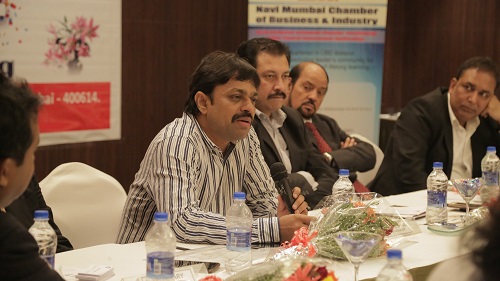 Navi Mumbai, Maharashtra, India: Jawaharlal Nehru Port Trust (JNPT) participated in the seminar on "Future of Supply Chain and Logistic Business in Navi Mumbai" organised by Navi Mumbai Chamber of Business and Industries (NMCBI) on August 06, 2016. It was attended by several key members and patrons of NMCBI for discussing important matters related to logistics and JNPT's key role in that.
Shri Neeraj Bansal, Dy. Chairman, JNPT, was the chief guest at the event. He addressed the gathering on the role of JNPT in the supply chain and how JNPT plays important role as key enabler for entrepreneurs & business people in Navi Mumbai and shared some important initiatives taken in the last 2 years to decongest the Port. He explained the major steps like – internal terminal transfer of TTs between three terminals- which proved to be an antidote to congestion along with the Direct Port Delivery (DPD) facility. In the last one year, the turnaround time of ships have come down drastically and port efficiency has gone up manifold, saving in time and money for the EXIM Trade.
He also highlighted how JNPT has implemented a number of ease of doing business initiatives in the last one year that have set the trade rolling and facilitated a hassle-free environment for doing business for the trade partners.
He apprised the contributions of NMCBI for playing an integral part of the port's growth story. The members also expressed their satisfaction over the free traffic flow in the Port are for the last couple of months consistently. Upon which Shri Bansal has welcomed members to witness themselves by visiting the port establishments, the various measures implemented by the Port at ground level.
He also threw light on various CSR activities the port is doing including support to drought-affected areas of Maharashtra, 50% concession in the fees for PAP children at JNPT school, various environment-friendly initiatives and willingness of the authorities to do more for the society.