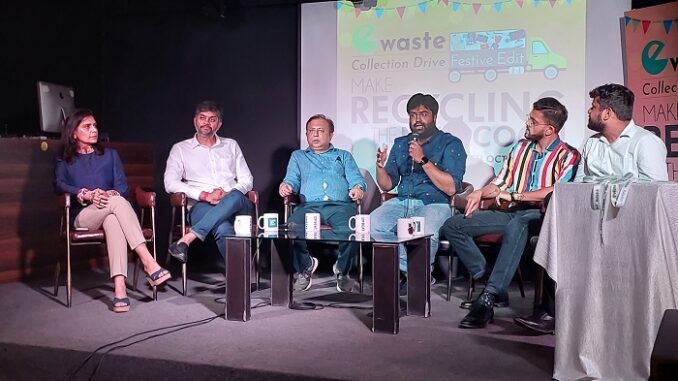 Hulladek Recycling Launches Festive Edit – A Nationwide E-Waste Collection Drive In Collaboration With Y – East, FICCI, Inner Wheel, Earth Day Network, Climate Change, Young India And Others
Hulladek Recycling Pvt Ltd, Eastern India's fastest growing e-waste management company, launched a nation-wide e-waste collection drive, named the Festive Edit today. The initiative, launched by Mr Aniruddha Bhatacharya, Asst. Environmental Engineer, West Bengal Pollution Control Board is a part of Hulladek's sustained efforts to create awareness regarding proper disposal and recycling of e-waste.
Present on the launch of Festive Edit were Mr. Meghdut Roy Chowdhury, Co-Founder & Chief Evangelist, Y-East & Executive Director & Chief Innovation Officer, Techno India Group, Ms. Shradha Saraf, Chairperson, FICCI, Mr. Ajay Mittal, Director, India and South Asia, Earth Day Network, and Mr. Rahul Maheswari, Member, Climate Change, Young India, amongst other prominent persons.
The Festive Edit is a mega e-waste collection drive, the first of its kind being undertaken nationally, where Hulladek collaborates with 20 sustainable organizations like Y-East, Young India, Earth Day Network, FICCI, Inner Wheel, AIWC, Beejum, Paryavaran Sangrakshak and others. The Festive Edit would conduct a nationwide e-waste collection drive and, in the process, create awareness amongst the masses regarding the imperativeness of a greener and cleaner world.
"During the festivals we do clean our homes and get rid of all kinds of waste. It is important that this waste is recycled in a proper manner, specially e – waste. Hence, we have started this nationwide initiative in association with our partner organisations. We do hope to collect huge quantities of e-waste through this initiative," said Mr Nandan Mall, Chairman and Managing Director, Hulladek Recycling Pvt Ltd.
As on date, only a miniscule percentage of the Indian population is aware regarding proper recycling of e-waste. The rest unwittingly contributes to the huge pile that goes to landfills and water bodies, leading to increased electronic waste pollution.