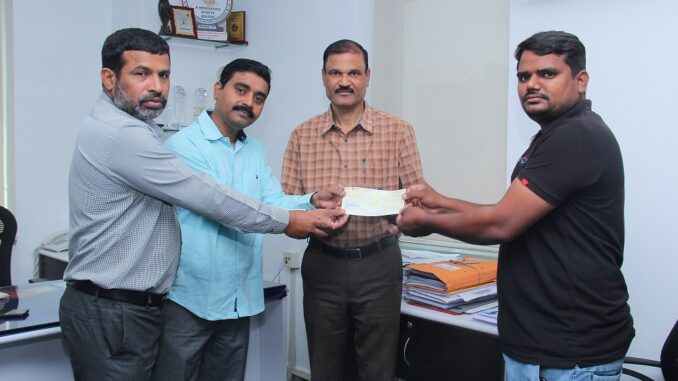 Hyderabad April 2021: Hybiz tv one of India's topmost online business channels stood behind the kin of the journalists who lost their lives to the Covid pandemic, by helping them financially. Venkateswara Rao of Sakshi, and Ravindranath of Namaste Telangana died because of Covid.
Hybiz TV management decided to help their families considering the adverse impact of their untimely death on their families. The management declared financial assistance of Rs 50,000 to each family.
In addition to Hybiz TV's efforts Malla Reddy group also announced another Rs 50,000 each to the kin of the affected families. The total amounts were handed over to the kin of the Covid hit journalists. The cheque for Rs one lakh for Venkateswar Rao has been handed over to Mr. Murali, Editor Sakshi in which Sakshi Deputy General Marketing Mr. Vinod also participated. A cheque for Rs one lakh has been given to the family members of Ravindranath of Namaste Telangana.
Family members of the journalists thanked Hybiz TV Chairman and Managing Director Madishetty Rajagopal, Director, Marketing Mrs. Sandhya Rani and Malla Reddy group for their timely gesture.