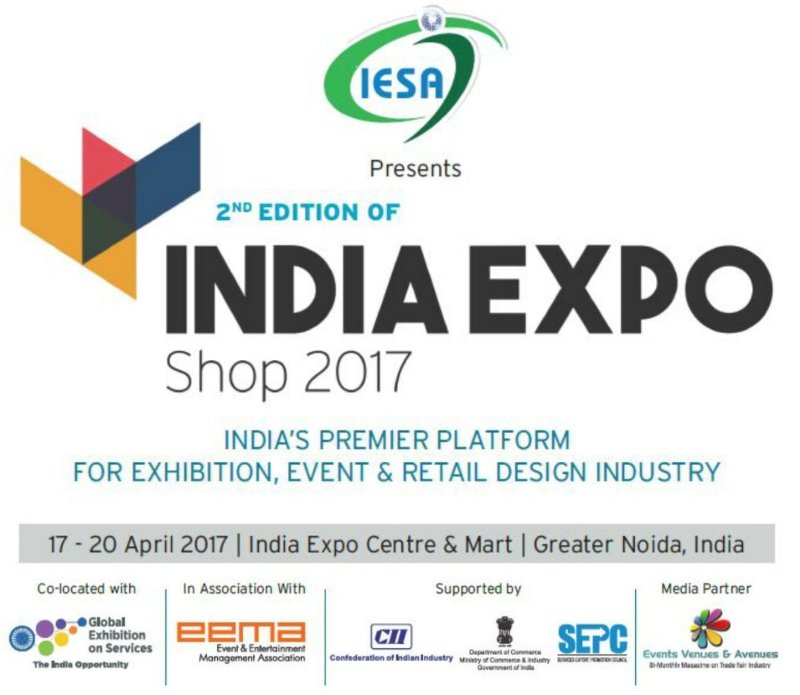 With the immense success of the first edition of India Expo Shop Summit, The Indian Exhibitions, Conferences & Events Services Association (IESA), an apex organization working towards the development of the exhibitions, conferences & events services sector in India, in collaboration with key industry bodies, government organizations including Department of Commerce, Ministry of Commerce & Industry, Government of India, Confederation of Indian Industry (CII), and Services Export Promotion Council (SEPC), is organizing the second edition of the India Expo Summit 2017 (IES 2017) at India Expo Centre and Mart, in Greater Noida, Uttar Pradesh on 17th April 2017.
Themed on "Embracing Technologies in Events and Exhibitions", the IES 2017 aims to bring different facets of Exhibition Industry, opportunities, challenges on a single platform and how they could be addressed or assisted by the use of technology.
The key objective of IES 2017, which would be inaugurated by honorable president of India Shri Pranab Mukherjee is to explore the potential of technology for Exhibition Industry in India and how its adoptions can bring massive shift in the way things are being done today.  As we all know, Exhibit Industry is not only helping the government or the industry in transforming their imagination into reality but over the years it has become an integral part of an ecosystem that ensures skills development, employment and overall growth of the country.
Globally, India is emerging as a massive economic power, accelerated by the government's Digital India and Make in India push which has acquired international acknowledgment. And, Exhibit Industry is no exception to understand this reality. Hence, in sync with the Honourable Prime Minister Shri Narendra Modi ji's vision to transform India into a knowledge economy and empowered country, the Exhibit industry believe that role of technology will be paramount in achieving this vision and hence taking many technology driven steps like exploring the use of emerging technologies to bring the next level of experience in event and exhibition sector.
The Conference will bring together experts, academia, government officials, international organizations, civil society, and the private sector to share the insights, experiences and facilitate exchange of knowledge on the theme of "Embracing Technologies in Events and Exhibitions"
In addition to in-depth focus on the growth and challenges in Exhibit Industry, the summit will also focus on topics such as integrating digital space in exhibition and events; latest development in coated fabrics and textiles; newer innovation in prefab systems; new trends in outdoor structures; printing and media for exhibition; and changing dynamics of soundproof and acoustic treatment among others.
Distinguished speakers, government officials, experts from across the world will come together to deliver keynote address, special presentation and sessions. IESA has sent out invitation to senior government officials from Ministry of Labour, Ministry of Commerce, Ministry of Tourism, Ministry of Textile, Ministry of Skill Development and global technology firms and senior academician from IITs, NID and design institutes.
Eminent speakers, industry leaders and experts to speak at the conference which includes:  Mr. Sabbas Joseph, President, EEMA;  Mr. Rakesh Kumar, Chairman, IEML; Mr Georges Kayser, Head of Asia Pacific- SIOEN Industries; Mr. Lee Tian, MD, Zhuhai Liri Tent Technology Co Ltd; Mr. Ross Ashton, The Project Studio; Mr. Michael Menezes, Chairman, Showtime Events; Mr. Narendra Naidu, Rhino Engineering and more.
In addition to key speeches and presentation, the summit will have ample space of approx. 7000 sq. metres for organizations to showcase their work and solutions in this sector by putting their stall in the expo area.
Commenting on the announcement of the second edition, Mr. Nanu  Binu, President, Indian Exhibitions Conferences & Events Services Association (IESA) said, "IESA has been continuously focusing on the development of Exhibitions, Conferences & Events services in India. With Hon'ble Prime Minister's vision to transform India into global knowledge power with the help of technology, the role of Exhibition Industry has become more important for taking this message to forward and showcasing it on a granular scale to the world. Therefore, in order to explore the benefits of technology, India Expo Shop Summit 2017 is being organized on the theme of "Embracing Technologies in Events and Exhibitions with the participation of senior government functionaries, experts and industry veterans."
Highlights of the India Expo Shop 2017
150 + global exhibitors
Conference / Seminar on various latest technical subjects
Industrial / Corporate business visitors
A Large number of exhibition industry visitor footfalls
Buyer Seller meet
Business & Networking opportunities
Delegation from leading trade association from India and abroad
Supported by leading Associations of Exhibition Industry
Opportunity to develop business, create new joint ventures, distributors & start New Collaborations