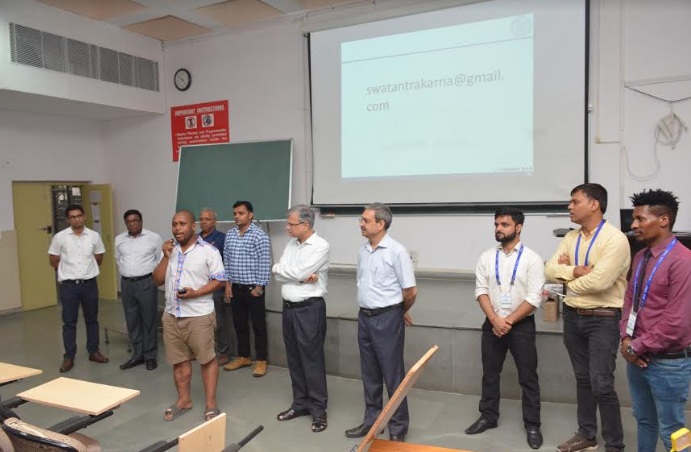 Roorkee, 2nd October 2019:  On the occasion of 150th birth anniversary of Mahatma Gandhi, IIT Roorkee in association with IIT Bombay, organized "Student Solar Ambassadors Workshop" on 2nd October 2019 at the Lecture Hall Complex of the campus. It aimed to imprint upon the minds of the young generation that "We don't inherit the Earth from our ancestors; we borrow it from our children."
This enlightening workshop hosted a total number of 350 students from various schools in Roorkee, along with the students of IIT Roorkee who participated in this session. The initiative was motivated by the idea of "Swaraj", as promulgated by Gandhi ji. The vision behind the workshop was to motivate the future leaders of the society to move towards Energy Swaraj, or self-sufficiency in energy needs of the country and the society.
This one day workshop captured three major interactive sessions including a lunch break and a photo session of the students with the attendees. The objective of the first session was to sensitize students about the importance and future in Solar sector where as the second session familiarized the students about the toolkit, solar lamp components, physical and technical testing. The third session was about assembling the quality lamp. These sessions enlightened the students about the solar energy and enabled them to test all the technical components and made them well versed with the technical parameters of all components and empowered them to assemble a quality solar study lamp. Students gained skills on soldering, usage of renewable and non-renewable energy, working of solar panel, assembling of components, basic knowledge of printed circuit board (PCB), and working of Light Emitting Diodes and so on.
Speaking on this occasion, Prof. Ajit Kumar Chaturvedi, Director, IIT Roorkee added, "Student Solar Ambassadors Workshop is meant to create awareness that Energy Swaraj can be achieved through solar energy. It provided students an opportunity to learn about energy by assembling their own solar energy based lamps and thus produce the energy which they need for themselves."
The workshop was coordinated by Prof. Rhythm Singh and Prof. Pratham Arora under the guidance of Prof. S. K. Singal, Head of the Department of Hydro and Renewable Energy, IIT Roorkee. The organization of the workshop was planned on the initiative and motivation from Prof. Ajit Kumar Chaturvedi, Director, IIT Roorkee.