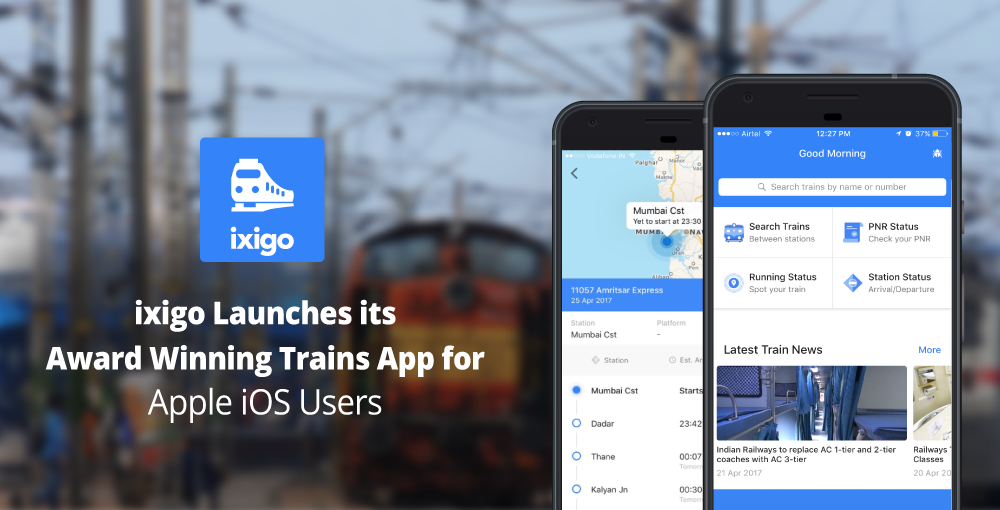 India's most popular train information app, ixigo trains will now be available for download on the app store for Apple iPhone users. With the Android version of the app having been named "Best App of 2016" by Google Play Store under the "Made In India" category, ixigo is all set to introduce the enhanced version of the app for iPhone users.
The ixigo trains app is packed with many handy features that ensure a hassle-free train information search and travel experience for Indian passengers. ixigo predicts the probability of ticket PNR confirmation for waitlisted tickets and tracks the status of all booked tickets and trains. The app also shows the live running status of trains insuring one knows exactly where their train has reached in real-time. Some other unique features include the ability to search trains by name or number, checking seat availability, fares, routes & amenities, accurate seat map display and much more.
The app is not only useful prior to the journey, but also during the trip. On the train, one can use the ixigo trains app to catch up on news stories related to trains, save offline routes and even play games to pass the time. Travelers can also share information such as their PNR details, running status, availability and more with their friends and family, via the app with ease.
Commenting on the launch, Rajnish Kumar, ixigo Co-Founder & CTO said, "ixigo trains app has undoubtedly become the most downloaded and most loved trains app in India within 4 years of launch. We now have close to 20 million downloads, 2+ Lakh ratings, with an average of 4.5 out of 5, over 1.1 Billion sessions and 20 million train searches every month. We are excited about the iOS app launch! The new app has received a good initial response with an average rating of 4.7 out of 5 on the Appstore!"
To get the ixigo trains app, travelers can visit the Google Play Store or Apple App Store.