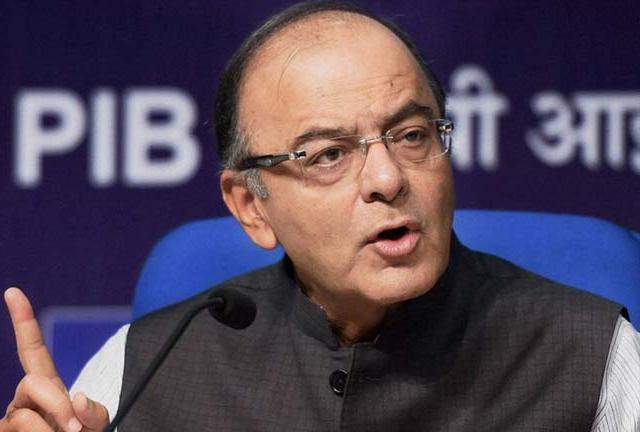 Union Finance Minister Shri Arun Jaitley announced here today a new Exchange Traded Fund (ETF) by the name BHARAT 22. Bharat 22 consists of 22 stocks of CPSE's, PSB's & strategic holding of SUUTI (list as in Annexure). Compared to energy heavy CPSE ETF, Bharat 22 is a well Diversified portfolio with 6 sectors (Basic Materials, Energy, Finance, FMCG,  Industrials & Utilities).   The Bharat 22 Index will be rebalanced annually. ICICI Prudential AMC will be the ETF Manager and Asia Index Private Limited (JV BSE and S& P Global) will be the Index Provider.
In the Budget Speech of 2017-18, the Finance Minister Shri Arun Jaitley had promised to use ETF as a vehicle for further disinvestment of shares. The target for CPSE's disinvestment in 2017-18 was set at Rs 72,500 crore. During the current Financial Year 2017-18, the Government has realised approx Rs 9,300 crore through nine disinvestment transactions so far.
 Globally ETF Assets have grown significantly. Globally today there is 4 trillion dollar worth Assets Under Management (AUM). These are expected to touch $7 trillion by 2021. Large Investors (Sovereign/Pension Funds) prefer investing in ETFs due to the benefits of  ETF being Low cost & Less risky; being Highly Liquid assets; Transparent Investment and that these can be traded at Real Time Market Price
Highlights of Growth of ETF market in India include:
Flexibility in Investment guidelines of PF to invest in equity/ETF
ETF Assets Under Management (AUM) has grown ~5 times in last 3 years
| | |
| --- | --- |
| Month | AUM (Rs. in crore) |
| Jun-17 | 53,917 |
| Mar-17 | 50,215 |
| Mar-16 | 20,698 |
| Mar-15 | 12,838 |
| Mar-14 | 11,403 |
ETF has been a preferred instrument for investment by PF's following flexibility given to them by govt. for their investments.
Government raised Rs.8500 crore by divesting through CPSE ETF in FY'16-17.
1: Bharat 22 Index – Index constituents
| | | | |
| --- | --- | --- | --- |
| Sr. No. | Company Name | Basic Industry | Weight (%) |
| 1 | National Aluminium Co Ltd | Basic Materials | 4.4 |
| | | Total – Basic Materials (%) | 4.4 |
| 2 | Oil & Natural Gas Corp Ltd | Energy | 5.3 |
| 3 | Indian Oil Corp Ltd | Energy | 4.4 |
| 4 | Bharat Petroleum Corp Ltd | Energy | 4.4 |
| 5 | Coal India Ltd | Energy | 3.3 |
| | | Total – Energy (%) | 17.5 |
| | |   |   |
| 6 | State Bank of India | Finance | 8.6 |
| 7 | Axis Bank Ltd | Finance | 7.7 |
| 8 | Bank of Baroda | Finance | 1.4 |
| 9 | Rural Electrification Corp Ltd | Finance | 1.3 |
| 10 | Power Finance Corp Ltd | Finance | 1.0 |
| 11 | Indian Bank | Finance | 0.2 |
| | | Total – Finance (%) | 20.3 |
| | |   |   |
| 12 | ITC Ltd | FMCG | 15.2 |
| | | Total – FMCG (%) | 15.2 |
| 13 | Larsen & Toubro Ltd | Industrials | 17.1 |
| 14 | Bharat Electronics Ltd | Industrials | 3.3 |
| 15 | Engineers India Ltd | Industrials | 1.5 |
| 16 | NBCC (India) Ltd | Industrials | 0.6 |
| | | Total – Industrials (%) | 22.6 |
| | |   |   |
| 17 | Power Grid Corp of India Ltd | Utilities | 7.9 |
| 18 | NTPC Ltd | Utilities | 6.7 |
| 19 | Gail India Ltd | Utilities | 3.7 |
| 20 | NHPC Ltd | Utilities | 1.2 |
| 21 | NLC India Ltd | Utilities | 0.3 |
| 22 | SJVN Ltd | Utilities | 0.2 |
| | | Total – Utilities (%) | 20.0 |
Annexure 2: Reform initiatives and benefiting component sectors
Sr. No.
Government Reforms/ Initiatives
Sectors that may benefit
1
Financial sector reforms:

•    Insolvency and Bankruptcy Code 2016

•    Monetary Policy Committee

•    Expansion of Banking sector

•    Digital and Cashless Economy

•    Listing of Insurance Companies

•    Finance
2
Taxation reforms:

•    Goods and Services Tax (GST) – Single Indirect tax structure aimed at eliminating cascading effect of indirect taxes.

•    Basic Materials

•    Energy

•    Finance

•    FMCG

•    Industrials

•    Utilities

3
Infrastructure reforms:

•    Improvement in quality of infrastructure

•    Speeding up clearance of stalled infrastructure projects

•    Basic Materials

•    Industrials

4
Liberalisation of Foreign Direct Investment (FDI) in India:

Progressive liberalisation to permit FDI in most sectors under the automatic route.

•    Finance

•    Industrials

5
Manufacturing in India:

•    Expanding Manufacturing facilities in India

•    International Skill Development Centre for domestic workers.

•    Basic Materials

•    FMCG

•    Industrials

6
Oil & Gas Sector Reforms

•    Direct Benefit Transfer of LPG subsidies

•    Introduction of Daily Fuel pricing.

•    Energy

•    Utilities

7
Energy Sector Reforms

•    Providing 24×7 quality, reliable and affordable power supply

•    Revival package for electricity distribution companies of India (DISCOMs).

•    Energy

•    Finance

•    Utilities