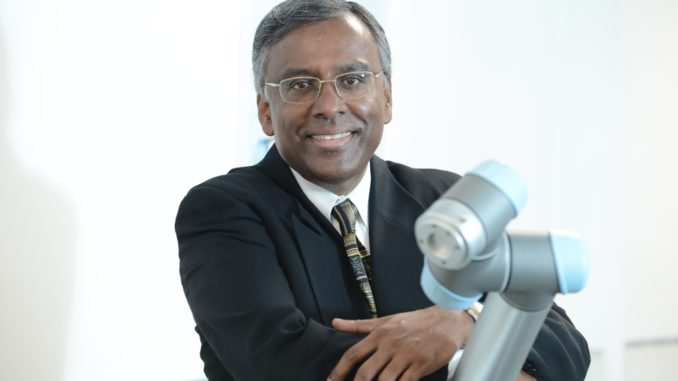 Mr. Pradeep David, General Manager, Universal Robots – South Asia.
"MSMEs have been a pillar of major emerging economies like India. MSMEs being a focus for Universal Robots, the government investment and tax reliefs will encourage the growth of this sector and lead to further employment generation. The allocation of the investments announced in the budget 2018-19 will help research and development in areas of Machine Learning, Artificial Intelligence and Robotics & Automation. Some of the interesting outcomes of this budget have been the duty enhancement on certain automobile components, doubling of resource allocation for food processing and to the digital India program. The food processing industry is growing at 8% and is an exciting development as cobots play heavily in end of Line packaging automation, an essential area to be competitive for global and local food processing companies. The Digital India program, a key to Industry 4.0 wherein cobots play an integral part as one of the key levers to supplement labour in terms of productivity, quality and ergonomics allowing India Manufacturing to climb up the value chain. Lastly, the government's outlook on the automation in major manufacturing industries with the advent and adoption of newer technologies which will lead to increase in the efficiency of the business processes, operations and productivity."
About Universal Robots: Universal Robots (A Danish company, headquartered in Odense, Denmark) who are the pioneers in the manufacturing of advanced, user-friendly and light industrial, Collaborative Robotic arms (CoBot)and have recently expanded their presence in the Indian market. These Collaborative Robots safely work alongside humans, and more as a "worker's assistant" or "third arm" or "helping hand" or "portable tool" which traditional industrial robots cannot be used as.
Universal Robots have over 200 CoBots deployed in India. The company has a network of 200 distributors in 50 countries. The company is dedicated to bring in safe, flexible and easy to use 6 axis industrial robotic arms to business of every size, all over the world. Universal Robots develop industrial collaborative robot arms that automate and streamline repetitive industrial processes. This approach enables production departments to assign their staff members more enjoyable tasks – creating jobs that provide them with new challenges that add value to the company.