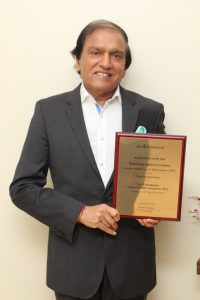 Ruchi Soya Industries Limited, India's leading Agri-FMCG company with a turnover of over Rs. 27, 000 crores has recently received a special recognition at 'Dun & Bradstreet India's Top 500 Companies & Corporate Awards', 2016. The company has been ranked as the number 1 firm as per total income in the food products sector by Dun & Bradstreet.
Commenting on the award, Mr. Dinesh Shahra, Founder & Managing Director, Ruchi Soya Industries Limited said, "We are delighted to be receiving this recognition from a reputed global organization like Dun & Bradstreet. This award reinforces our dominant position in the food products sector, especially in the edible oil and soy foods space where we are the market leaders. It is a testament of our relentless focus on brand building, enhancing our manufacturing and R&D capabilities and expanding our distribution reach."
Ruchi Soya has been also featured in D&B's acclaimed publication – 'India's Top 500 Companies' (2016 edition) which was published recently. Dun & Bradstreet India's Top 500 Companies & Corporate Awards, 2016 recognized and felicitated corporate India's leading companies from various sectors.
Ruchi Soya is India's leading Agri- FMCG company and the country's number one cooking oil and soy food maker and marketer. Its leading brands include Nutrela, Mahakosh, Sunrich, Ruchi Star and Ruchi Gold. An Integrated player from farm to fork; Ruchi Soya has secured access to oil palm plantations in India and other key regions of the world. Ruchi Soya is also the highest exporter of soya meal, lecithin and other food ingredients from India. Ruchi Soya is committed to renewable energy and exploring suitable opportunities in the sector.