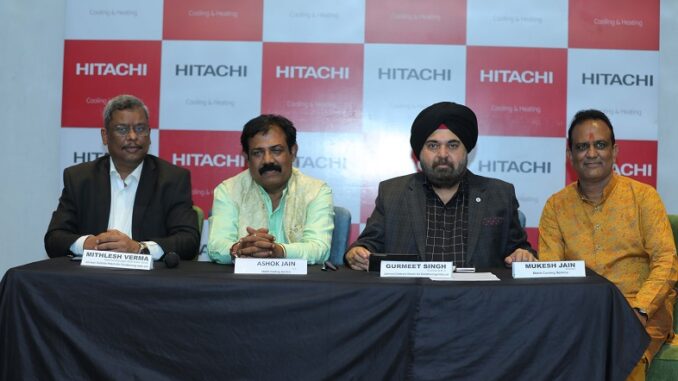 Udaipur (Rajasthan), 22th Nov 2021: Johnson Controls-Hitachi Air Conditioning India, manufacturers of one of India's largest selling air-conditioner brand 'Hitachi Cooling and Heating' today announced its aggressive expansion plans to further strengthen its Brand Leadership in North India and capture the promising and growing residential and commercial air conditioning market of Rajasthan. With a new strategy and roadmap, the company is all set to write the next chapter in its growth story with focus on the fasts growing markets of Jaipur and Udaipur. The company is also bullish on promoting its new product lineage of 'Made in India' ACs, supporting country's prestigious Atmanirbhar Baharat mission and boosting domestic component manufacturing.
In an extremely competitive market segment, Hitachi Cooling and Heating in North India holds 14% market share in B2C; 25% in PAC/CST and 10% in VRF. Hitachi Cooling and Heating is one of the leading air conditioner brands in Rajasthan. The company holds 14% market share in B2C; 25% in PAC/CST and 10% in VRF. Udaipur is one of the key cities of the region where the company holds 16% market share in B2C; 25% in PAC/CST and 20% in VRF. The contribution of Udaipur in Rajasthan business is calculated at B2C – 15% and B2B – 20%. 
Hitachi Cooling and Heating has also introduced its first of its kind 'Hitachi Live Demo' concept. Being an 'Air Expert', Hitachi Cooling and Heating plans to set new benchmarks for the rising light commercial air conditioning segment by taking such live demos to key markets. The company has partnered with Mohit Cooling Services to launch its first state-of-the-art 'Hitachi Live VRF DEMO with Air Cloud Pro' in Udaipur. 
Understanding the future sentiment and demand in Rajasthan, the company is bullish on the retail as well as commercial footprint in the region and is aggressively looking to expand its existing touchpoints from 400 to over 700 for B2C and 50 for B2B in the next 2-3 years. The company has a strong presence in the region with a good strength of channel partners and the company is working towards increasing the strength to 70 from the current 40 in the next 2 to 3 years to expand its reach. The company offers a wide range of superior product experiences to premium customers, architects, consultants and builders, looking for innovative air conditioning solutions for their residential and commercial spaces.
Mr. Gurmeet Singh, Chairman & MD, Johnson Controls-Hitachi Air Conditioning India Limited said, "Rajasthan is a key market for us and Udaipur alone contributes a considerable part of the business both in commercial & residential Air Conditioning segments. Mohit Cooling Services is our proud Channel Partner with a stronghold in the Udaipur region. We have a fruitful and exciting relationship with them and are delighted to embark on this new journey with the opening of a new office with live VRF Demo."
"We are grateful to the Government of India for considering the industry and launching the PLI scheme to support 'Made in India' components. Recently the government has 'provisionally selected' 42 air-conditioner and LED manufacturers, including Johnson Controls Hitachi Air Conditioning India Ltd, as beneficiaries under Production-Linked Incentive (PLI) scheme for white goods. The scheme has been a real booster. Right now, it covers only components, but 70% of the components are currently being imported from outside India. Hence this would reap huge benefits for the industry which could earn almost 5000 crores over 5 years for the component ecosystem. The ultimate winners will be the consumers.", he further added.
Talking about the new office, Mr. Ashok Jain, Hitachi's exclusive Xpert lounge Channel Partner and Owner of Mohit Cooling services said, "Our long association and experience with Hitachi has been very satisfying and enriching. It has provided the best platform for us to excel in the fast-growing residential and commercial cooling & heating segment. We are confident that with the support of Hitachi Cooling and Heating, we will be able to serve our customers in the best way. With their diverse product line-up that includes Commercial ACs and Residential ACs, offering seamless product experience to the consumers in the region will be easier."
Johnson Controls-Hitachi Air Conditioning India Ltd. offers innovations that aim at an unparalleled indoor experience and add comfort to life. Under the brand name of Hitachi Cooling & Heating, the company offers path-breaking air conditioning products that meet everyone's diverse requirements; premium looking, technologically advanced Room ACs for residential users; SET FREE mini (VRF System), Flexi Split ACs and Flexi Duct ACs (Ductless) & Cassette models for premium residential and light commercial spaces; highly efficient SET FREE ∑ (VRF System), Toushi/Eco (Ductable type) and Chillers for large commercial usage; the company has 'one for everyone'.
The company is also on a massive localization drive and endeavours to promote and push 'Made in India' ACs. The company has recently announced to reduce its component imports to almost half and increase exports three-fold in the next three years. Take Made in India Air conditioners to newer heights, the Company has expanded its geographical boundaries in export business. In the last couple of years, the Company has started exporting to Sri Lanka, Indonesia, Bangladesh, UAE, and Nepal, and this year added Bhutan, Myanmar, Maldives, Oman, Bahrein, Qatar, Saudi Arabia, Iraq and few countries like Kenya and Djibouti in Africa Continent. With aggressive focus and improved product lineup for exports, the Company is positive about further growth of export business in coming years. The state-of-the-art Global Development Centre in Gujarat is playing a significant role in developing new and exciting products, particularly for South-East Asia, the Middle East and Europe to enhance company's ability to meet diverse market needs in these regions.
To bridge the gap of accessibility of Room AC (RAC) in Tier 2 and 3 towns, the company plans on strengthening its retail outreach (10,000+ retail touchpoints) and introducing multiple finance schemes and warranty offers.
The customers can reach out to the company representatives through 24X7 customer care number at 079 71414848/ 075 6788 4848.