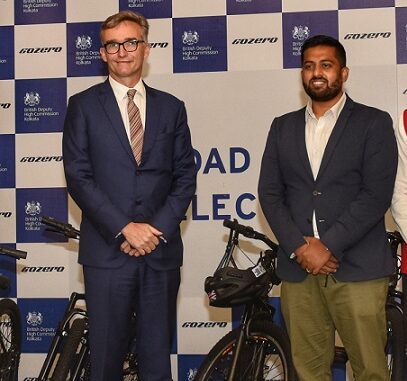 GoZero Mobility in association with British High commission showcased public electric bicycles as an affordable, cleaner and healthier mode of transportation in Kolkata on Monday, 27 September 2021.
Mr. Alex Ellis, British High Commissioner to India, Mr. Nick Low, British Deputy High Commissioner to Kolkata, Mr. Ankit Kumar, Founder & CEO, GoZero Mobility and some distinguished dignitaries were present on the occasion.
GoZero Mobility has been dedicatedly working & committed towards the mission & vision of COP 26. The GoZero eBikes which are designed in the UK, are an affordable, healthy and clean mode of transportation, which will allow the users to commute faster with zero emission.
The UK Government will be hosting the United Nations Framework Convention on Climate Change Conference of Parties 26 (COP26) in Glasgow, Scotland in November 2021. A key priority of this "Climate Summit" is Zero Carbon Road Transport. This will provide energy security, and reduce both air pollution and emissions from the transportation sector. In the run-up to COP 26, the UK is working with governments, cities, businesses, research organisations, think tanks and others to enhance uptake of electric mobility and to showcase innovation.
Earlier this year, in February the British Deputy High Commission, GoZero Mobility and Govt. of West Bengal came together to recognise the efforts of three COVID Warriors for the service rendered by them during the pandemic. They were honoured with high performance and zero emission GoZero eBikes at a felicitation ceremony.
GoZero Mobility is a British performance electric bicycle maker with headquarters in Birmingham and a manufacturing base in Kolkata and Gurugram, present in over 30 major cities in India with 150+ retail network.
Mr. Alex Ellis, British High Commissioner to India said, "The faster we switch to electric vehicles, the better for the air we breathe and for our environment. GoZero Mobility's e-bikes are an affordable, clean and healthy way to get around town. And they are also great fun. It's a brilliant example of UK-India working together for sustainability – e-bikes designed in Birmingham and made in Kolkata and Gurugram."
Mr. Ankit Kumar, Founder & CEO, GoZero Mobility said, "GoZero Mobility has been devotedly working & committed towards the mission & vision to fast track the road to sustainable transportation. We firmly believe eBikes are a right solution fit to enable cleaner, greener and sustainable transport ecosystem. Today, we are showcasing our range of superior, high performance yet affordable range of eBikes. These are available in over 30 cities in India and will be in over 50 cities by the end of 2021."
The eBike sales globally are accelerating at a high pace and we are very well playing our part to create a green and sustainable transportation for all. Till date, GoZero eBikes have ridden a total of 4.5 million kms and have reduced CO2 emissions by 1200 tons thus contributing towards a greener and sustainable future. We hope to see more and more cities adopting electric mobility in the coming days.