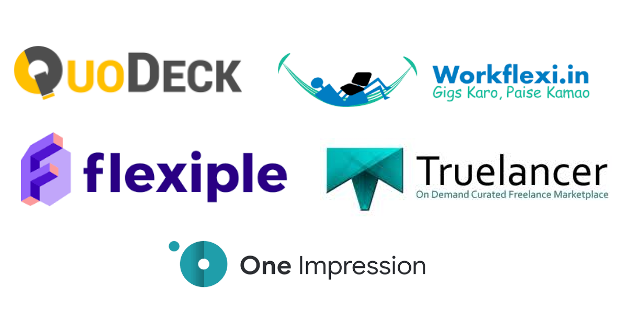 Since the start of the pandemic, India has become a global hotspot for the gig economy. India's gig economy comprises a market opportunity characterised by the prevalence of short-term contracts or freelance work instead of permanent jobs. By their very definition, a gig worker is not bound to any one organisation & can work on multiple projects according to their expertise and availability. A plethora of business models has come up in recent times leveraging the gig economy, such as rideshares, delivery models, service providers, etc. This large consolidation has a potential of over 90 million jobs in the near term, as per a 2021 BCG-MSDF report. In short, roughly 1 out of every 10 people in the working age population in India is expected to be a part of the gig economy.
With such a large influx of gig workers, most of whom are young millennials and GenZ, gig employment in many ways, is becoming the future of work. And enterprises recognize this and are looking to capitalise on this opportunity significantly. So, how do you hire, engage, and train a larger gig workforce? This is where this list of curated apps and platforms targeted towards the gig economy can help. Serving a variety of functions, these apps and platforms can help companies unlock the immense potential of the gig economy.
Here we list down the top 5 Indian platforms that every Company with a Gig Workforce should use or know about:
. QuoDeck
The management and training of gig workers have always been a significant challenge for enterprises. While it is a crying need for every company working with gig workers, the challenges of training and engaging a disaggregated workforce with high levels of churn are not easy. Launched in 2017 by Kamalika Bhattacharya & Arijit Lahiri, QuoDeck is a B2B SaaS Digital Learning and Engagement Platform that enables organisations to use interactivity and games to engage audiences such as employees, value chain, and gig workforces.
QuoDeck caters to the growing need for organisations to build digital engagement for these audiences, an inherently scalable approach. The QuoDeck Platform specialises in creating pull through the use of games and gamification mechanics, driving higher adoption and greater retention among these audiences. Furthermore, by using interactivity and games, QuoDeck helps capture valuable data in real-time and analyse it through big data analytical tools. The platform is highly scalable and equipped to handle large user bases and extended ecosystems such as sellers, agents, vendors, distributors, partners, etc.
QuoDeck offers a complete digital engagement suite called the QuoDeck Interactive Cloud that promises engagement, speed, mobility, regionalisation, data, and security.
Today, QuoDeck is the market leader in its category, catering to over 5 million users across an enterprise client set that includes Unilever, Vodafone, Flipkart, Dabur, etc.
2. Workflexi
Workflexi is a gig economy platform that bridges the gap between businesses or individuals and gig workers that are specialised in facets, both technical, non-technical, & creative. Skills in demand like IT skills, Accounting, Taxation, Digital marketing, Interior designing, Baking, photography, dancing, singing, sketching, cinematography, and others.
The platform believes in on-time payments to avoid settlement delays which is one of the common problems for platforms dealing with payment gateways and traditional payment transfers.
The platform was founded by Prabhu & Sandesh Kangod in 2016.
3. Flexiple
Flexiple is a gig economy platform that pre-screens freelancer developers and designers to simplify the selection process for the organisations. The platform has a multi-level assessment system with pass rates that vary from 45.4% to less than 1%. This ensures only the quality of talent greets businesses that sign up to hire for gigs. Some of them include technical prowess, communication skills, background checks, and performance consistency.
One of the highlights of Flexiple is the platform also offers a 1-week trial period to enable companies to assess the synergies with the gig workers before plunging in.
Flexiple was founded by three IIM-Ahemdabad graduates, Karthik Sridharan, Hrishikesh Pradeshi, and Suvansh Bansal, in 2016.
4. Truelancer
Truelancer is a global marketplace for freelancers & businesses. The gig-powering platform enables a company to post their requirements, recruit freelancers & consultants, and get the job sorted. Truelancer is home to over 600,000+ freelance professionals.
This platform comes with a Safe Deposit where it collects funds from businesses and transfers it to users only after the final project has been approved & completed. Be it SEO experts, content writing, web development, design, or sales & marketing, Truelancer has it all.
Truelancer is based out of New Delhi and was founded by Dipesh Garg in 2010.
5. One Impression
One impression is a dedicated platform for digital celebs and influencers. The platform claims to have registered over 14 Million+ influencers right, from celebrities, micro-influencers, IG legends, and TikTok stars. One Impression comes with an additional feature called OneDoctor, an AI tool, that combines an intensive algorithm to determine the best influencers for a project.
Launched in 2017 by brothers Apaksh Gupta and Jivesh Gupta, One impression is based out of Gurugram.