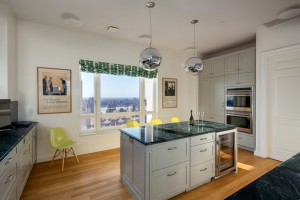 Louise Phillips Forbes, of Halstead Property, one of the premier luxury real estate executives in New York City, provides predictions for the real estate market for 2016:
Millennials will continue to be a major buying force in 2016 with the majority of first-time buyers being between 25 and 34. Although the presence of younger generations (primarily Millennials) in the real estate market has been exaggerated over the past couple of years, they still represented $2 billion in sales nationally in 2015, approximately one-third of all home buyers. In NYC specifically, Millennials will continue to settle in the outer boroughs. Brooklyn has been hot for the past few years and the areas of Greenpoint, Carroll Gardens, Boerum Hill, Red Hook, Crown Heights, and Ditmas Park will be even more appealing to buyers in 2016. More and more people are now discovering Queens as the next frontier. Keep an eye on Jamaica, Sunnyside and Woodside in particular. Also, don't be surprised if buyers in their mid-30s trend towards the suburbs if they can get more for less.
The Baby-Boomer generation will boost the market with double transactions as both sellers and buyers. Most of them are already home owners so they will be looking to sell and downsize to a smaller home to lower their cost of living to maximize ease of retirement.
In NYC, extremely low rental vacancy and slowing of the sales market indicates that rent price growth will likely exceed sales price growth in 2016. Rents soared in 2015 hitting record-highs in some markets – median rent prices in Manhattan reached an all-time-high of $3,339 driven mostly by the 10.7% climb in rent prices for one-bedroom units – and the rental costs are expected to continue rising nationwide in 2016. It's more affordable to buy in more than 65% of the U.S., provided the potential buyer meets the requirements: good credit score, history of stable income, and money in savings. Brooklyn will be the hardest hit with rental increases. And although the growth in rent prices will be slower in 2016, the city's median rent price is forecasted to rise 3.2% to $3,055. Rent growth is far outpacing the city's income growth and the typical NY household could spend upwards of 65.4% of its total annual income to afford median rent in 2016, up from 58.7% in 2015.
New home construction will focus more on affordable housing as opposed to luxury housing, even in urban environments. Developers and builders want to capitalize on the demand of the entry-level market. Expect them to build condominiums with smaller units – 2 bedrooms, 1 bedroom units and studios, averaging from $800,000 to over a $1M in the NYC area. With a slowdown in the last quarter of 2015, ultra-luxury condos and homes aren't moving as quickly because supply has caught up with demand. That being said, NYC in particular is still very much a leader in the international luxury real estate market, attracting a variety of wealthy elite foreign and domestic buyers who recognize the value of owning property in Manhattan, especially when the price per square foot is still considerably less than in other major cities globally such as London and Hong Kong. There will always be buyers looking for extraordinary homes but the current inventory in the luxury housing market, coupled with what's on the books for opening in 2016, will be enough to meet the demand. Prices in NYC will remain at or slightly below current asking but you may see a decline nationally in 2016 for homes at the luxury level.
The inventory levels for single-family homes are expected to increase in 2016, which could have an effect on home prices in many areas since consumer confidence and job creation are on the rise, putting more people in a position to buy. Prices will either remain the same or go down slightly based on the principles of supply and demand. A slowdown in home-price appreciation could motivate more property owners in NYC to sell, further easing the inventory crunch that we experienced in 2015.
Mortgage rates will likely be higher than the historical lows we have become accustomed to for the past several years due to the recent move by the Federal Reserve to increase interest rates. The new rates should still be manageable in most cases; Freddie Mac is forecasting the 30-year fixed-rate mortgage to average below 4.5% for 2016 on an annualized basis, which would raise monthly payments just over $100 on a $350,000 loan.
The higher interest rates may finally bring down housing prices to more affordable levels in many markets giving more property owners the incentive to sell, leading to an increase in inventory. Given the increase in rents, the modest increase in the interest rates shouldn't deter buyers. If they're smart, they will recognize that they should buy "more today than less tomorrow" as interest rates will only continue to rise in the years to come.