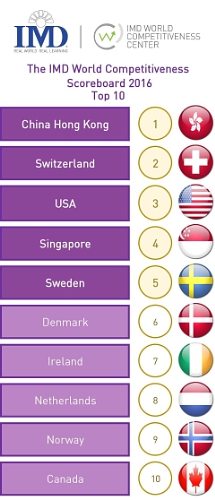 The Pearl of the Orient, China Hong Kong, is living up to its nickname and has defied a pattern of decline among Asian economies to supplant the United States of America (USA) as the world's most economically competitive country, according to the latest ranking released by the IMD World Competitiveness Center.
The territory claims the top spot in the 2016 edition of the prestigious World Competitiveness Ranking, returning to the number-one position for the first time since 2012. Singapore, ranking 4th is the only other Asian nation in the Top 10.
The USA ranked first in 2013, 2014 and 2015, with China Hong Kong slipping as low as fourth, but the sheer power of the US economy is no longer sufficient to maintain its dominance. Countries who take strategic action to compete, as in China Hong Kong's efforts to create a business-friendly environment, or in Singapore's investment in infrastructure, especially around shipping, are able to stand up to large economies.
The latest ranks China Hong Kong first, Switzerland second and the USA third, with Singapore, Sweden, Denmark, Ireland, the Netherlands, Norway and Canada completing the top 10.
Besides China Hong Kong and Singapore, the research suggests Asia's competitiveness has declined markedly overall since the publication of last year's ranking.
Taiwan (14th), Malaysia (19th), Korea Republic (29th) and Indonesia (48th) have all suffered significant falls from their 2015 positions, while only China Mainland stayed in the top 25.
Professor Arturo Bris, Director of the IMD World Competitiveness Center, said: "On the whole, there has been  significant in Asia's competitiveness since our last ranking.
"This general decline has been caused by the fall in commodity prices, a strong dollar and the deterioration of balance sheets in both the private and public sectors."
Professor Bris added that China Hong Kong's consistent commitment to providing a favorable business environment had been central to its ability to defy the region's wider woes.
A leading banking and financial center – like Singapore – the territory encourages innovation through low and simple taxation and imposes no restrictions on capital flows.
It also offers a gateway for foreign direct investment in Mainland China, the world's newest economic superpower, and enables businesses there to access global capital markets.
IMD analyses over 340 criteria derived from four principal factors – economic performance, government efficiency, business efficiency and infrastructure – to produce its rankings.
Professor Bris said: "One crucial fact that our research underlines year after year is that current economic growth is by no means a guarantee of future competitiveness.
"The common pattern among all of the countries in the top 20 is their focus on business-friendly regulation, physical and intangible infrastructure and inclusive institutions."
IMD business school has published the ranking each year since 1989.