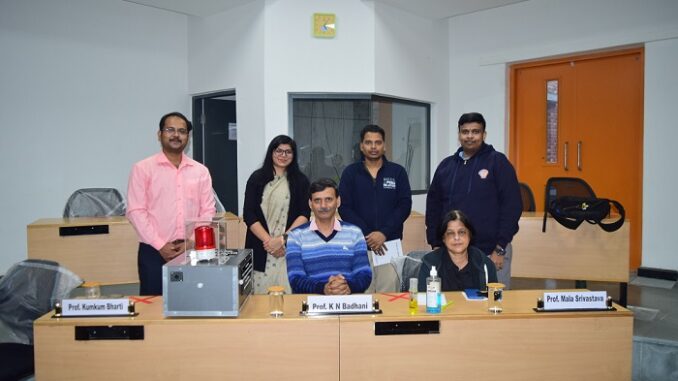 Kashipur, Uttarakhand: Indian Institute of Management Kashipur has conducted prototype testing of one of the products developed with the support of the Design Innovation Centre(DIC) to solve the issue of man-animal conflict. Navaashay DIC, Indian Institute of Management, Kashipur through its initiatives aims to add value to society and to be a partner in nation-building. It shared the issue of man-wildlife conflict with the Parivartan Club which organized the Prayaas 3.0 event in Feb 2021. More than 800+ teams participated from the country and after two rounds of extensive screening, 10 teams were selected for the final round.
The winning Idea was given by a student of BITS Pilani Mr. Aalelai Vendhan. The idea was later developed into a prototype after multiple rounds of iterations with support from DIC, IIM Kashipur. The product prototype is named 'Paritranaya Prakrti'. It is an automated product that senses the animal's presence and drives them away using a siren sound. It works on battery power and can also be powered by solar energy in the future. It uses a PIR-based sensor and currently covers a distance of 12m with a field view of 100 degrees.
In Uttarakhand, the frequency of man-animal conflict is high, and the effects of this issue can range from small injuries to both humans and animals up to even fatalities. There is also a high possibility of the agricultural lands getting destroyed. The product overcomes the existing product shortcomings, is environment friendly, and is cost-effective. We hope this is one of the solutions to a problem that was affecting the co-existence of man and animal in the Himalayan region of the country.
"At IIM Kashipur we always believe in working with society to solve practical real-life problems" said Prof. Kumkum Bharti, Coordinator-Navaashay DIC, IIM Kashipur.