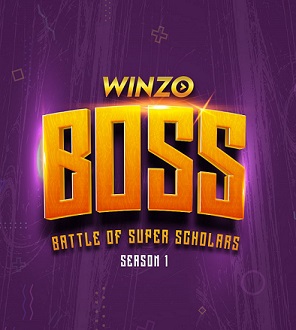 Mumbai: WinZO, India's largest social gaming platform that has been at the forefront of solving monetization for the gaming industry, has initiated a first-ever national level Scholarship Program for the Gaming Sector – Battle of Super Scholars (B.O.S.S.) with an aim to provide a platform to the best minds to disrupt the trillion-dollar global gaming industry. WinZO has over a short span of time emerged as a data-driven consumer tech company and is revolutionising the one-in-a-million interactive entertainment opportunity. Working towards not only building for Bharat but also for the global market, WinZO is set out to mobilize the top talent to maximize opportunities emerging from the gaming sector, in order to promote its culturally relevant DNA glocally.
WinZO has introduced the Scholarship Program to ensure that the best business minds come together to solve live business problems as well as new strategic initiatives that the company is undertaking. Over the years, the start-up ecosystem in India has attracted the finest talent across sectors such as e-commerce, fin-tech, ed-tech, food-tech, amongst others. Recognising the need to add to the existing talent pool in the gaming industry, through this Scholarship Program, WinZO aims to grant an opportunity to individuals driven to solve tech-intensive, product-led and customer-centric challenges for the global gaming ecosystem.
Interacting with the national finalists of B.O.S.S. Season 1, Paavan Nanda, Co-founder & CEO, WinZO said, "The current decade belongs to the Indian Gaming Opportunity and being one of the leading players in the space, it is our fiduciary duty to join hands with the best minds of the country as we lay down several pillars of the Indian Gaming Ecosystem. We have a massive lineup of path-breaking initiatives for game developers, players, game streamers, E-Sports, and some of these would be led by the winners of this year's B.O.S.S. programme over the coming months."
"We are aiming to build through Bharat for Bharat and beyond, a product that is in sync with global standards. We need the best brains at work for this industry to flourish and maximise its potential to the fullest. It is with this very thought and our constant quest to promote excellence WinZO picked the top young business minds to solve different challenges for the gaming, media and entertainment industry," added Saumya Singh Rathore, Co-founder & Director, WinZO.
The Scholarship Program witnessed participation from top B-Schools such as IIM Ahmedabad, IIM Calcutta, Xavier School of Management (XLRI) and Management Development Institute (MDI) for students to work out solutions to real-life problem statements that are central to the gaming industry. Season 1 of B.O.S.S. saw 300+ applications from across these top B schools, out of which 24 students were shortlisted. Scholarships worth 15 lakhs were distributed amongst the winners and over 11 PPOs were offered. Yash Mehta from IIM Calcutta won in the business category and Vijay S from MDI won in the HR category.
Students who take part in B.O.S.S. will be eligible for a chance to win annual scholarships and PPOs, on a case-by-case basis. Going forward WinZO aims at providing Scholarships to the tune of 20 lakhs, the corpus of which will expand exponentially over the years as the company looks at covering more campuses. With an aim to inculcate a practitioner's approach, the social gaming platform has decided to develop this as a flagship initiative which is one of their many initiatives that counts as a continuous contribution to the gaming ecosystem. WinZO recently announced the launch of 'The Gaming Lab' initiative in collaboration with marquee investor Kalaari Capital, alongside its standalone Game Developer Fund-III of $20 million.