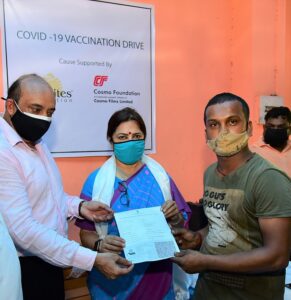 New Delhi: Cosmo Foundation, the social arm of Cosmo Films Ltd., has organised a one-day vaccination drive against COVID-19 for the people of Delhi today at Satya Jeevan Leprosy Society in Lajpat Nagar.
The vaccination drive marked the presence of Ms. Meenakshi Lekhi, Minister of State in the Ministry of External Affairs and Ministry of Culture Govt. of India.
Since 2008, Cosmo Foundation has worked extensively towards the cause, increasing outreach to neighbouring villages of their manufacturing units (Vadodara, Aurangabad & corporate office, Delhi) to promote the quality of life for the community. The COVID-19 was one of the most challenging times humanity has witnessed and CF took it as an opportunity to serve and support the rural marginalized community, stranded and migrant labourers, police and health workers, educators, pregnant & widow women, COVID affected patients and their families, elderly & abandoned, etc.
Aiming to be a helping hand in such testing times, COSMO Foundation used its wide network to facilitate people with necessary help in several locations in India. It includes a range of initiatives such as delivery of food and grocery, hygiene kits, medical equipment & vaccines, massive COVID awareness to promote COVID appropriate behaviour, registration on Arogya Setu App & vaccination, COVID care counselling to abbreviate the fears, misinformation, ignorance & build understanding on symptoms, precautions, correct methods of quarantine etc. Cosmo Foundation also put huge efforts to engage rural children in the educational process on digital platforms.
"COVID-19 has taken a big toll on people's lives, just wearing masks, washing hands and maintaining a social distance is not enough. We need to get people vaccinated as soon as possible so that we can counter the increasing number of cases and cure ourselves to keep continuing our productive life," said Ms. Meenakshi Lekhi, Minister of State in the Ministry of External Affairs and Ministry of Culture Govt. of India.
Talking about the drive, Mrs. Yamini Jaipuria, Managing Trustee, Cosmo Foundation, said "no one can predict what the future holds for the people of our country as we are seeing new variants of Covid-19 which are about to strike us with new waves. Our priority should be to get people vaccinated as soon as possible to fight against COVID-19. We need to promote vaccination drives and increase the vaccine counts in order to decrease the death counts. Together we can win this fight against the deadly disease."
Cosmo Foundation has organized Vaccination Drive for 400 Delhi Traffic Police Personnels and their families on 12th June 2021 in Ashok Vihar, New Delhi and for 400 Iskcon Devotees on 26h June 2021 at Iskcon Temple, East of Kailash.