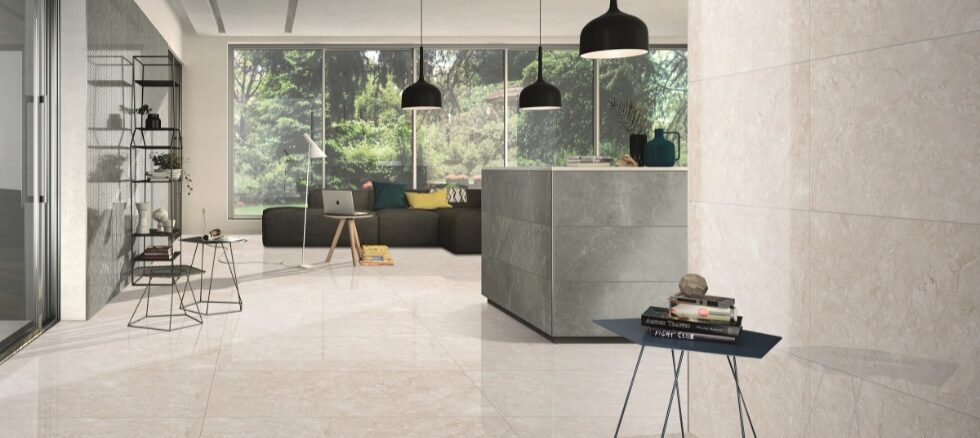 https://www.hrjohnsonindia.com/lookbook/Johnson-Porselano-Elite-60×120-20×120-60×60-30×60-40x40cm-RJKT/index.html#page=73
When it comes to enhancing the beauty and functionality of your home or any interior space, ceramic wall tiles stand as an exceptional choice. These versatile and stylish tiles come in an array of colours, designs, and textures, allowing you to unleash your creativity and personalize your space like never before.
However, selecting the best ceramic tiles for walls requires more than just aesthetics. In this comprehensive guide, we will walk you through everything you need to know – from understanding the different types of ceramic tiles to considering factors like size, patterns, and finishes.
Ceramic Tiles for Kitchen Walls
Ceramic tiles are a durable, water-resistant, and easy-to-maintain option for kitchen walls. Tiles offer a stylish and hygienic solution, protecting the walls from stains and moisture, making them an excellent choice for busy kitchens.
Factors to Consider
Cleaning & Maintenance

Oil and other stains

Hygiene

Positions – Backsplash, open wall, cooktop backsplash

Aesthetics is important, especially for modern open kitchens attached to the living room
Sizes & Surface Finish
The most popular sizes for kitchen backsplash wall tiles are 30x60cm, 30x45cm, 10.8×10.8cm Heritage tiles, and 10x30cm Subway tiles. The best surface finish for backsplash wall tiles is glossy. But you can also use satin or rocker finish.
Luxurious large kitchens can also use high gloss 60x120cm tiles for backsplash. However, the walls should be straight and not curved to effectively use large tiles.
Most Popular Designs for Kitchen Walls
Subway Tiles
These are classic and timeless tiles that come rectangular, usually 3×6 inches. They are versatile and can complement various kitchen styles, from traditional to contemporary.
Mosaic Tiles
Mosaic tiles are small tiles arranged in a pattern on a mesh backing. They come in various materials, colours, and designs, adding visual interest and texture to kitchen walls.
Digital Coordinated Tiles
Digital coordinated tiles are a combination of different tiles which form a pattern or scenery when installed together.
Glossy 3D (Punched) Ceramic Tiles
Tiles with three-dimensional tactile patterns are also popular and enhance the looks of your kitchen. However, stick to glossy finish surfaces to maintain easy cleaning and a hygienic counter.
Ceramic Wall Tiles for the Bathroom
Ceramic wall tiles are an ideal choice for bathrooms due to their water-resistant nature, and simple maintenance needs. They prevent water damage, are easy to clean, and maintain a hygienic environment. The wall tile designs add style to the bathroom, making them a practical and aesthetic option.
Factors to Consider
Limescale formation

Cleaning and maintenance

Fittings & Fixtures

Natural Light
Sizes & Surface Finish
The most popular sizes for bathroom walls are the same as kitchen walls. However, you can have a vanity accent wall using 3D tiles with tactile-like surfaces. Apart from the vanity accent, the remaining walls should feature glossy or polished walls.
Glossy and polished tiles will make it easier to avoid and remove limescale deposits which form gradually.
Most Popular Designs for Bathroom Walls
Subway Tiles
Subway tiles are classic and timeless tiles that come in a rectangular shape, usually 10×30 cm. They are versatile and can complement various bathroom styles, from traditional to contemporary.
Apart from the subway tiles, the most popular ceramic wall tile designs for bathrooms include:
Digital Coordinated Tiles
3D Tiles for Vanity Accent Wall
High gloss or polished tiles for the shower area
Accent Wall Tiles for Living Room & Bedroom
https://www.hrjohnsonindia.com/lookbook/Johnson-Tiles-Royale-Wall-Floor-60x120cm-Catalogue-RJKT-Aug22/index.html#page=4
Ceramic tiles for living room and bedroom walls offer several advantages like durability, low maintenance, easy cleaning, and stain resistance. They come in various designs, enhancing the aesthetics of the spaces. Additionally, ceramic tiles contribute to a hygienic environment, making them a practical and stylish choice for these areas.
Factors to Consider
Aesthetics, interior theme, and personal taste

Accent wall

Natural light
Tile Size For Living and Bedroom Accent Walls
You can use large-size tiles like 60x120cm or larger (80×120 cm, 80x160cm, 120x240cm, etc.) to create an accent wall in your living room or bedroom. The simplicity and size of the walls will play a role in determining the size and how the tiles are placed.
Tile size for accent walls could be lower if you are putting up 3D tiles. Surface finishes for bedroom wall tiles are quite versatile, and you can choose from matte finish surfaces to high-gloss finishes. Rocker finish tiles can give a more natural look.
Designs for Living Room & Bedroom Wall Tiles
Marble-Effect Tiles
Embrace the timeless elegance of marble with ceramic tiles that mimic the natural stone's veining and texture. These tiles add a touch of luxury and sophistication to the living room.
Wood-Effect Tiles
Get the warmth and charm of wood without the maintenance hassles by opting for ceramic tiles that replicate the look of hardwood. Wood-look tiles can create a cosy and inviting ambience.
3D Tiles for Accent Walls
Add depth and dimension to your living room walls with 3D ceramic tiles. These tiles come in various patterns and textures, creating a stunning focal point in the room.
Geometric Patterns
Ceramic wall tiles featuring bold and eye-catching geometric patterns can jazz up the living room of your home. These tiles can bring a contemporary and artistic flair to the space. Keeping the geometric pattern tiles limited to the headwall in the bedroom creates a more relaxing atmosphere.
Textured Tiles
Opt for ceramic tiles with textured surfaces to add visual interest and tactile appeal to the living room walls. Textured tiles can range from subtle patterns to more pronounced designs.
Solid Colours
For a minimalistic and clean look, go for solid-coloured ceramic tiles in hues that complement your living room's overall colour scheme.
Moroccan-Inspired Tiles
Infuse your living room with an exotic and bohemian vibe by choosing ceramic tiles featuring intricate Moroccan patterns and designs.
Contemporary Patterns
Experiment with modern and abstract patterns to create a living room that exudes contemporary style and artistic flair.
Front Elevation Wall Ceramic Tiles
Using ceramic tiles for the front elevation wall enhances the exterior's visual appeal, providing a striking first impression. Ceramic tiles are durable, weather-resistant, and easy to maintain, ensuring long-lasting beauty. Ceramic tiles allow for creative and personalised aesthetics, transforming the facade into an eye-catching and welcoming feature.
Factors to Consider
Exposure, i.e., covered front elevation area and area prone to weather elements

Aesthetics and exterior theme
Most Popular Sizes & Surface Finish
3D tile surfaces are more popular for front elevation walls, as they reflect less light and offer a soothing appearance. The choice of tile size depends on the type of elevation walls. A plain and straight wall can use larger tiles. However, if the wall has facades, windows, pillars, or irregular shapes, using smaller tiles would be better.
The popular sizes range from 60x120cm to planks of 20x120cm and smaller tiles of 30x60cm and 30×45 cm.
Best Ceramic Tile Designs for Front Elevation
3D Elevation tiles are some of the most popular tile designs available for front elevation walls. However, you can also use wood plank GVTs for external cladding and a unique natural appearance.
Following 3D elevation tiles are popular choices at leading tile manufacturers like H&R Johnson:
Fire-Brick Red:

The uniform exposed red brick colour exudes a unique energy with a neoclassical look.

Sandstone Bricks:

One of the most popular and low-maintenance tile choices. These tiles mimic the formation of sandstone brick walls.

Marble Chips Stack:

Another popular choice for front elevation design, but unlike fire-brick and sandstone, this tile creates a rich and colourful elevation design.

Terracotta Carved:

If you wish to go back in time and reflect the luxurious and oriental terracotta art on your house, this is the tile design for you.
Other Walls for Ceramic Tiles
You can use ceramic tiles on several other walls inside and outside your house. However, take care of the factors discussed for other areas while choosing the best ceramic tile for the area.
Hopefully, this guide empowers you to make informed decisions and turn your walls into stunning works of art. Whether you are revamping a bathroom, kitchen, living room, or any other area, this guide should help you breathe life and character into your cherished space.
You can also contact tiling experts at leading tile producers like H&R Johnson for advice and installation guidance.