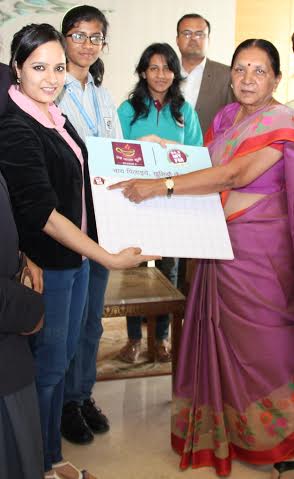 94.3 MY FM concluded the second edition of its CSR initiative "EK Pyala Khushi". The initiative was undertaken across all stations and received an overwhelming response from people at large.The thought behind curating this initiative was to bring a smile on deprived faces. A cup of tea with biscuits during winters can be joyous for anyone who strives really hard to get the basic necessities of life. The brands philosophy is to spread happiness and this initiative was MY FM's cup of happiness that they wanted to share.
MY FM associated with more than 100 tea stalls in each city. The month long activity saw more than 2.4 lakhs tea cups donated across all stations. Infact the activity got such hype that Governors, MLA, Chief Minsters and govt. official of various states and Bollywood celebrities also participated in the activity and donated generously, Chief Minister of Gujarat Smt. Anandiben Patel, Chief Minister of Chhattisgarh Mr. Raman Singh, Bollywood Director and Producer RajkumarHirani to name a few.
Speaking on this initiative Mr. Viplove Gupte, Chief Programming Officer said, "One of the most simple and humble activity MY FM has ever convened, "Ek Pyala Khushi" is something that elegantly prompts you to do the good deed of the day. In all 17 stations of ours, we tied up with key Tea shops across the city.
Last year, we started this activity for the first time and donated over 50000 cup of tea to people who needed it. This year we added a small packet of biscuit to the kitty. The response was tremendous. People throng the tea shop to do their good deed of the day. It is simple, heart-warming and the donor can see his gift being availed. It overwhelms us to see the people in need but a small act of charity can help us contribute to their betterment. Now a hot cup of tea and a pack of biscuit is not even a princely sum to donate, however the smile it brings on the face of the people availing this gift is priceless."
Many people made it a point to donate at least 1 cup tea and biscuit every day. A gentleman donated 80 cups of tea on the occasion of his grandmother's 80th birthday. Also, two teenage girls celebrated 25th anniversary of their parents by donating 50 cups of tea and biscuits. Besides this, even the RJs visited the tea stalls and encouraged people to donate one cup of happiness for the needy and underprivileged.
On conclusion of this great initiative Mr. Harrish M Bhatia CEO MY FM, commented, "We at MY FM aim to spread happiness in the lives of everyone we reach out to. This activity was curated to touch people's lives. The ecstasy to make a difference in someone's life with a small cause is great happiness in its own. We are very happy that our listeners supported us to make this campaign a huge success."