Prime Minister Modi reviews progress in Railway and Road Sectors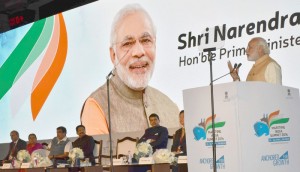 Prime Minister Narendra Modi today, reviewed the progress of the railways and road sectors. Modi was informed that the over Rs.93,000 crore capital invested in the railways in 2015-16, which is 65 percent more over the investments made in the previous year. The officials informed that during 2015-16, 1780 km of lines have been commissioned whereas 1730 km electrified.
Reviewing the progress of the core infrastructures, Prime Minister Modi stressed upon the need to expedite the redevelopment of Railway Stations. Modi told officials that railway infrastructure in rural areas could be used for activities such as skill development, and this could also result in an increase in non-fare revenue for the railways.
The Prime Minister was informed that more than 6000 km of highways were completed in 2015-16 and contracts for another 10,098 km were awarded in the same period. Modi told that officials need to study various models of road development across the country.