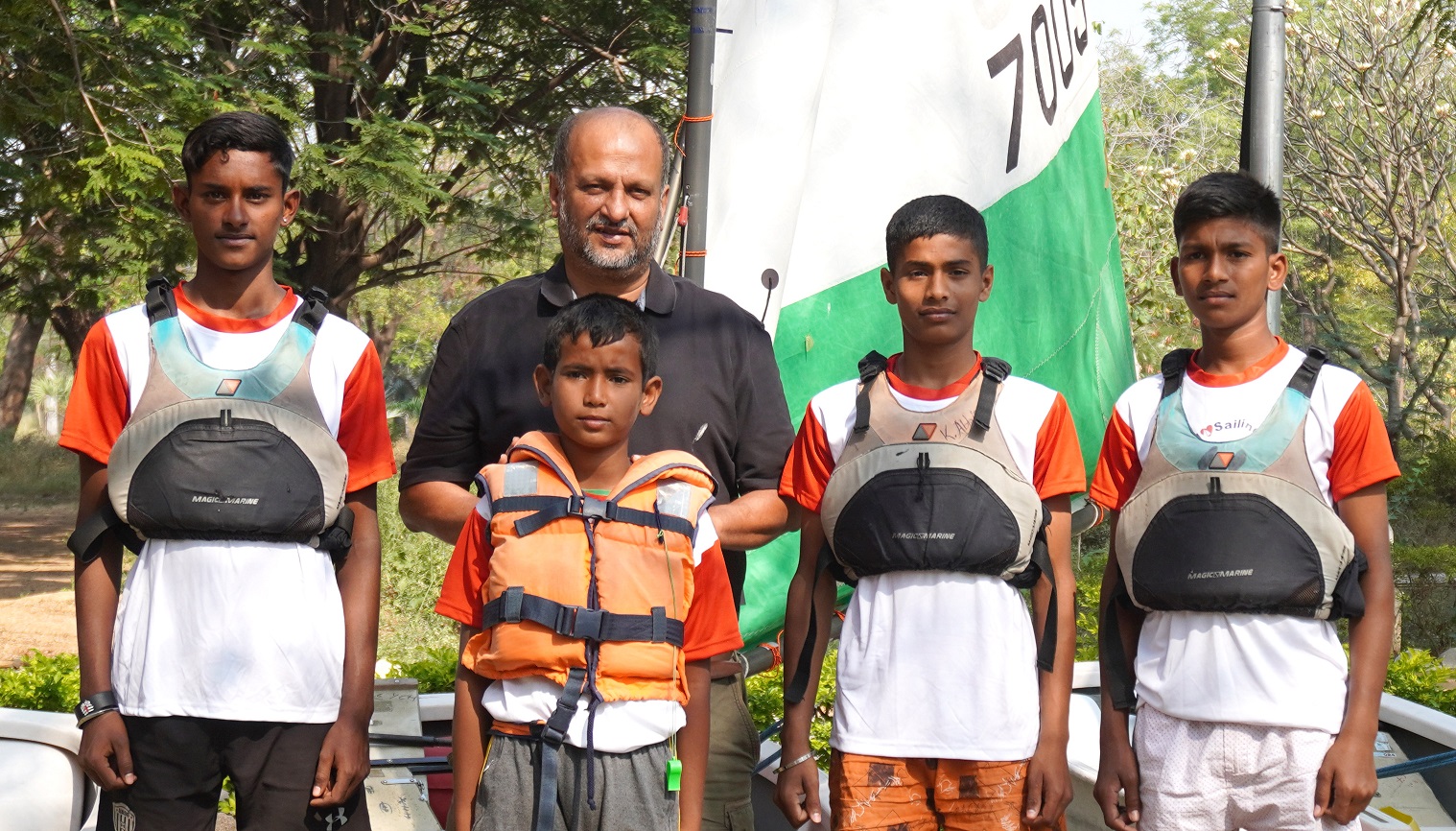 Hyderabad……..Just a few months ago, in November 2020 Nayeem Pasha of Kriya Sangh Society, an NGO operating out of Rasoolpura Hyderabad received a call from the Yacht Club of Hyderabad Foundation asking him to select a few children from his locality. Little did Nayeem predict that one of his wards Manideep Perakatta a student of Alpha Omega school, would be selected to join the Army Boy Sports Company with the Madras engineers Regiment at Bangalore at the tender age of just 10.
Son of migrant parents from Orissa who works as construction labour at Rasoolpura, Manideep and his family are all excited to see the little boy selected into a dream career with his future secure in both the sport of sailing and a proper career in the Armed forces.
Rasoolpura has produced about 20 state and national medals and 3 National champions with most of the sailors from Udbhav School , a school supported by the IIM Ahmedabad Alumni Association.
Army Boy Sports Company is a collaborative venture of SAI with the Indian Army, The main objective of the Scheme is to make use of the good infrastructure and disciplined environment of the Army for training boys in the age group of 8-16 years of age, to achieve excellence in sports.
Mahatma Jyotiba Phule school boys Nitin Nayak from Achampet, Nagarkurnool and Abiram Kavarala from Wanaparthy and Harshavardhan Yerra a Swearoe of Vikarabad were also selected by the Indian Army through a stringent process across 5 days that tested their sailing skills, fitness ,bone structure and track record at the Nationals.
Nitin Nayak, 13 was recently declared the under 18 Telangana Junior State Champion beating many with greater experience while he is still in the Sub Juniors. Son of Jabbarlal and Kamala small farmers from Nagarkurnool, Nitin was jubilant to be the first to be selected and at the top of the fitness measurements.
"My coach Suheim Sheikh has been telling me to work hard on my fitness and I did a lot of stamina and strength training in my spare time when not helping my parents at our farm, as due to Covid my education had come to a halt and the training has proved to be of great benefit during the selection", said a beaming Nitin.
"I have been working hard and was happy to be on the National Sub Junior Squad but being selected for the Army will now make my life and it was all really worth the effort for the past 3 years. When I joined the Yacht Club of Hyderabad I saw a few of my seniors Vijay Sabavath , Durga Prasad and John Yourulu in the Army and Navy teams but I did not even dream that I too would be part of those teams. I will miss the Yacht Club and I am very grateful for the intensive training and support provided to me by the Yacht Club Foundation", said Harshavardhan Yerra, a son of small farmers from Chilkur.
Abhiram's mother Bharathi, a homemaker, had tears in her eyes that she couldn't believe their son got an opportunity to get trained by the Army and absorb him into the force in future. Shekhar, his father being a Karate trainer, always dreamt that his sons must get into either the Police or Indian Army. 40 of the boys whom he trained in Karate have been selected as police constables. Last year Shekhar broke his leg and had to confine to home, But he continued training from home. When his son had to go to Bangalore for the selection, he had to borrow money to meet the expenses. Now that he is selected they are very happy.
Nithin Nayak's mother Kamala too had tears rolling down her cheeks to express her joy that their little lad Nitin Nayak not only got an opportunity to get trained and pursue his sailing career, but also will get an opportunity in future to serve the army. Nitin wanted to become an Olympian.
Almost all the four boys got selected come from a very humble background. And none of their parents are educated. There were no bounds to their happiness. That achieving it at such a very young age.
"The Yacht Club Foundation told us to keep our expectations low at the army selections and we did not expect two of our seven boys to get through with flying colours ", said Mr Malliah Battu a senior officer with the BC Welfare.
"Getting 4 of our boys selected when only 8 were chosen out of hundreds of applicants is very satisfying and a clear indication that our training and systems are well established. Dignity Through Sports is our motto and this is surely another step in exactly that direction ", said Suheim Sheikh President of the Yacht Club of Hyderabad.
It is a very proud moment not only to the sailors, their families, Yacht Club, but also to the Telangana State Government, People of Telangana.
"As President of the Telangana Sailing Association it makes me very proud that 4 of our Telangana boys have made it ", said a jubilant Lt.Gen. KS Rao, VSM India's first circumnavigator.
The Army picked up 4 out of 41 competed in the process.
This is not the first time. The Yacht Club has already produced 12 such sailors, who have already secured a place in Indian Army and Navy. The selection process which would have taken place last April got postponed due to the pandemic. The Navy is visiting the Yacht Club tomorrow for the preliminary selections. In another six months one more round of selection may also happen by the Army, informed Yacht Club.
The Yacht Club of Hyderabad Foundation selects its sailors from amongst marginalised boys and girls and trains them to National and International levels. They have sent 6 girls under their Naavika program to the Atlantic Week at Portugal Spain and to Oman for the Asians in 2019 and 2020 and have now provided for full fledged supplementary school teaching Sailing, Fitness, Karate, Yoga and Maths , English and Science.
This is a very unique program and the biggest Sailing School in the world with 140 boats and more than 600 sailors trained with 70 medals and about 12 boys recruited to the armed forces.