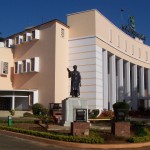 As speculated the winter session of Odisha assembly was started on a stormy note on December 2 as the major issues Opposition Congress and BJP have the suicide of distress farmers in the state. With in few days of winter session of Odisha assembly, the opposition got another big issue to corner the state government i.e., detention of students at Rama Devi Women's University Bhubaneswar during the visit of Chief Minister Naveen Patnaik last week.
Over the issue, the statement of Parliamentary Affairs Minister Bikram Keshari Arukh in the house triggered another controversy for the state government. Leader of Opposition Narasingha Mishra moved privilege motion against the minister in the house on Monday, which is yet to be decided by the speaker of Odisha Assembly.
Notably, last week during the visit of Chief Minister Naveen Patnaik to the institution some students were allegedly detained by the police over security grounds. Odisha BJP women wing lampooning the act by the police moved to state human rights panel and handed over a memorandum seeking proper action over the issue. On the other hand, the students of the institution demonstrated on the roads demanding proper action in this regard.