Washburn University: Annual Lincoln Harman Lecture Series to feature Caroline Janney, Feb 3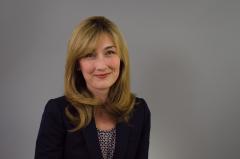 Caroline Janney, author and Civil War Era expert, will present "What They Thought It All Meant: The Civil War Generation Remembers," at the annual Lincoln Harman Lecture Series at 7 p.m. Wednesday, Feb. 3 in the Washburn Room, Memorial Union, Washburn University campus. The lecture is free and open to the public.
Janney is a professor of history at Purdue University, West Lafayette, Indiana. Her research focuses on the Civil War and how the war generation remembered the nation's bloodiest war. Her first book, "Burying the Dead Not the Past: Ladies' Memorial Associations and the Lost Cause," explores the role of white southern women as the creators and purveyors of Confederate tradition in the immediate post-Civil War South. Janney's second book, "Remembering the Civil War: Reunion and the Limits of Reconciliation," is a volume in the Littlefield History of the Civil War Era and examines how the Civil War has been remembered between 1865 and the 1930s by northerners and southerners, men and women, white and black. "Remembering the Civil War" has been selected for the History Book Club and Military Book Club, and it received an honorable mention for the Avery O. Craven Award, for the most original book by a recent historian on the Civil War Era. Janney received her masters of arts and doctorate from the University of Virginia. She serves as a co-editor of the University of North Carolina Press's Civil War America Series and is the in-coming president of the Society of Civil War Historians.
The Lincoln Harman Lecture Series is in its 28th year at Washburn University. Its purpose is to "encourage individual and public interest in the ideals and integrity exemplified in the life of Abraham Lincoln," as stated by Judge Jerome Harman, a 1935 graduate of the Washburn School of Law, when he and his wife created the lecture fund. The lecture has recently been presented in conjunction with events celebrating Washburn University's sesquicentennial. Washburn was established as Lincoln College by a charter issued by the State of Kansas and the General Association of Congregational Ministers and Churches of Kansas on Feb. 6, 1865.