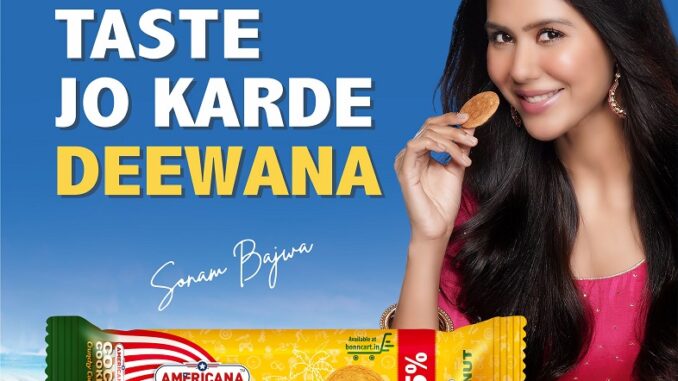 New Delhi/ April 28th, 2022 : Leading FMCG player Bonn Group, well known for manufacturing world-class bread and bakery products in India, has on-boarded award-winning actress Sonam Bajwa as brand ambassador for its Americana range of premium biscuits. As a part of this association, Sonam will be promoting the Americana biscuit range on several multimedia platforms.
Mr. Amrinder Singh, Director, Bonn Group of Industries said "We are exhilarated to welcome Sonam Bajwa into the Americana family. She is a brilliant actor and has recently built a strong fanbase with her amazing talent and back-to-back hit movies. Sonam has associated with us when we are aggressively expanding our manifestation and operations.I believe her charm and vibrant personality will certainly add more value to our Brand.
Reflecting further, Mr. Amrinder Singh said that Americana's premium digestive range of biscuits is made up of whole wheat for easy digestion and a happy gut. The Brand also has a whole wheat multigrain cracker in its healthy product range. He proudly states that Americana is also the market leader in the coconut biscuit segment in North India. Americana has become a leading brand with the joint efforts of the stakeholders including all the valued customers.
Asked about the availability of Americana brand biscuits in the market, Mr. Singh said that the products are available in more than 1,50,000 outlets in North India, including Punjab, Haryana, and NCR Delhi. Moreover, Americana biscuits are also available on our own e-commerce platform- bonncart.in along with other online stores like Big Basket, Swiggy, Walmart, Nature Basket, and a few more. Also, the brand is taking forward its journey zealously by expanding to Hyderabad and Bangalore markets.
Sonam delightfully said that she is pleased to be a part of the Americana community. "Taste Jo Karde Deewana' is an innovative campaign I am associated with and goes quite well with the Unique Selling Proposition (USP) of the biscuits range, which offers both quality and taste. The company has a decent range of premium biscuits in its product portfolio that is detectable yet affordable. Being a part of Americana's growth will be an enthusing journey that I'm looking forward to" added Sonam.
Sonam Bajwa has a considerable fan base in Punjab and North India. Americana's association with Sonam is slated to increase the Brand's appeal among current and prospective customers. The collaboration will also provide the Americana Biscuit Range from Bonn Group with more excellent brand recall. The move aims to create a point of difference vis-a-vis competition for Americana.
The fast-moving consumer goods (FMCG) industry is growing at a rapid pace and therefore the retail industry is ready to follow an omnichannel strategy. According to a Nielsen report, e-commerce for FMCG will reach USD 400 billion by 2022, representing more than 10 percent of the global market for bakery products.