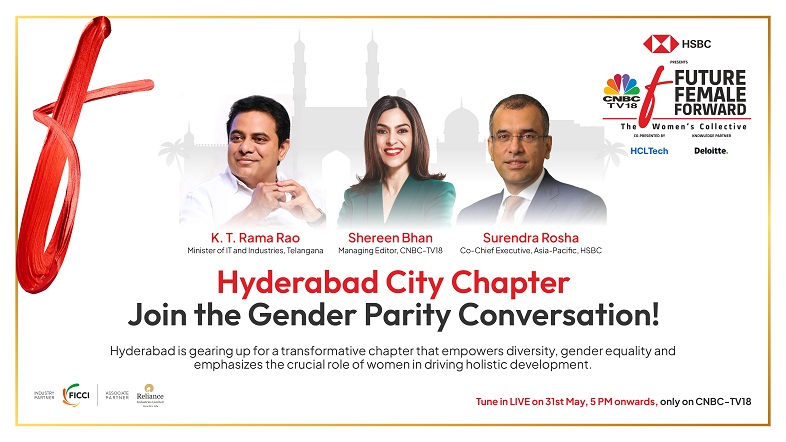 May 2023: The city of Hyderabad is all set to witness the Future. Female. Forward – The Women's Collective city chapter – CNBC-TV18's mega initiative to chart a path to make gender parity an inevitable reality. For over a decade now, CNBC-TV18, as a purpose-driven brand, remains steadfast in its commitment to promoting gender equality in the workplace and its eventual overall impact on the economy and growth of the nation. Telangana as a state has a utilitarian model in the country for developing an efficacious startup ecosystem that aims to foster an innovation-driven economy and has envisaged to nurture the innovators, researchers, startups, and entrepreneurs thus making the state technology driven. Numerous eco-system enablers for startups and entrepreneurs such as WE-HUB, T-WORKS, T-HUB, RICH, Emerging Technologies, TSIC, and TASK, have been established by the government to progress in this regard. It encourages innovators and startups, allowing them to flourish and grow.
Thus, with Hyderabad as an ideal destination to inspire change, CNBC-TV18 continues to spearhead its efforts with this city chapter scheduled to take place on May 31, 2023, from 5 PM onwards at T-Hub Phase 2, Hyderabad. The event will bring together a diverse range of top businesses and startups to address the prevalent concerns on the gender parity deficit and potential solutions to close this gap. Shri K.T Rama Rao, Minister for IT & Industries Government of Telangana will be the chief guest of the event. Other esteemed guests gracing the event will be Surendra Rosha, Co-CEO, HSBC Asia Pacific; Hitendra Dave, CEO, HSBC India; Rahul Singh, Chief Operating Officer – Corporate Functions, HCLTech; Deepti Sagar – Chief People & Experience Officer, Deloitte India; Subhrakant Panda, President, FICCI; Dr. Sangita Reddy, Joint Managing Director, Apollo Hospitals Group; Rajesh Nambiar, CMD, Cognizant India; Naveen Gullapalli, Global Head, Corporate Centers and CONEXTS (GBS), Novartis; Deepthi Ravula, CEO, WeHub; Priyanka Ravala, Head – International Programs, Strategy and Partnerships, T-Hub; Anu Acharya, CEO, Mapmygenome; Mansi Gandhi, Co-Founder, DoctorC; Kalpana Ramesh, Founder, The Rainwater Project; Lithika Bhanu, CEO, Terrafirma Projects; and Deepthi Alapati, Founder, Pulp Cosmetics.
The event will see the unveiling of the Future. Female. Forward Playbook, is an in-depth resource and best practices guidebook that will consist of a compilation of the year-long journey of the initiative. This will be followed by a powerful fireside chat with Shri K.T. Rama Rao, Minister for IT & Industries, and Surendra Rosha, Co-CEO of HSBC Asia Pacific, highlighting the importance of women's role and equal representation in leading holistic development at the workplace, in conversation with Shereen Bhan, Managing Editor, CNBC—TV18.
A special felicitation will honor the women champions behind India's first fully women-led and built industrial park in Hyderabad. The event will also consist of a series of engaging discussions on insightful topics like Women Transforming the Tech and Lifesciences space aligned with the G20 Summit 2023 goals, and The Future of Sustainable Innovation: Women Pioneering Change. Additionally, to bring a different, creative flavor to the event, the brand has also invited designing mavericks Eka Lakhani, Costume Designer, and Pratiksha Prashant, CEO, of Kishandas & Co., for a conversation on 'A step back in time – Dressing up the Cholas', wherein they will share how they lead by example for other female artists and their journey to bringing the Cholas to life in the Ponniyin Selvan film franchise.
The event will culminate with an engaging presentation by author Sreemoyee Kundu on mainstreaming single women's identity in India, and the absolute need for it in today's day and age.
Following the success of the mega initiative, Shereen Bhan, Managing Editor, CNBC-TV18 said, "Following the success of the summit, we are delighted to bring the city chapter of 'Future. Female. Forward – The Women's Collective' to Hyderabad. This city chapter will serve as a forum for organisations and institutions to ignite meaningful conversations and put forth the best practices and regulations needed to promote gender parity in the workplace. We look forward to bringing some actionable change in the future and collaborating with like-minded individuals and organisations to build a more equitable future for women."

Sharing her thoughts, Smriti Mehra, CEO, of Business News, Network18, mentioned, "At CNBC-TV18, we believe that gender parity in the workforce is both a social and a business imperative. Through our flagship initiative, Future. Female. Forward – The Women's Collective, our channel aims to empower women professionals and create a more balanced & inclusive workplace for women. With the Hyderabad city chapter, we look forward to bringing diverse voices and perspectives together to engage in meaningful conversations and explore solutions to provide a gender-equitable workplace for women. We are excited to engage with leaders from Hyderabad in this endeavour and strive towards a future where every individual has an equal opportunity to succeed."

Hitendra Dave, CEO, of HSBC India, said, "We are thrilled to have discovered a like-minded partner in CNBCTV18 and we are delighted that our partnership has sparked meaningful conversations. Our primary goal is to make a significant impact in the crucial area of gender parity in the workforce. We are fortunate to have found a valuable advocate and passionate voice in Shereen Bhan. Our focus is on building a diverse, connected, and balanced workforce. We deeply value differences and strive to provide equal opportunities to all individuals, as these principles are at the core of our values."

Rahul Singh, COO – Corporate Functions, HCLTech, commented "We are glad to partner with CNBC TV18 on the Future Female Forward initiative and be part of the much-needed global movement on gender parity, diversity, and inclusion. At HCLTech, we are committed to making our workplace more equal and creating a supportive, respectful, and inclusive environment that empowers all our people to find their unique spark and be the best version of themselves. Women of HCLTech continue to lead this journey as they power progress in technology and beyond. I am confident about the positive impact platforms like CNBC TV18 will create to address the challenges and opportunities in achieving gender equality."

Deepti Sagar, Chief People and Experience Officer, Deloitte South Asia, commented "I am happy to witness the pivotal role being played by women in the technology space both at Deloitte and in India at large. Their technical skills combined with their positive attitude towards learning have contributed to the innovation and success of our organisation. We are committed to fostering an inclusive environment that empowers and celebrates women and their continued growth and leadership in shaping the future of technology,"
CNBC-TV18's Future. Female. Forward – The Women's Collective is proudly presented by HSBC India. It is co-presented by HCLTech, while Deloitte India supports the initiative as Knowledge Partner, with Industry Partner, FICCI, and Associate Partner, Reliance Industries.