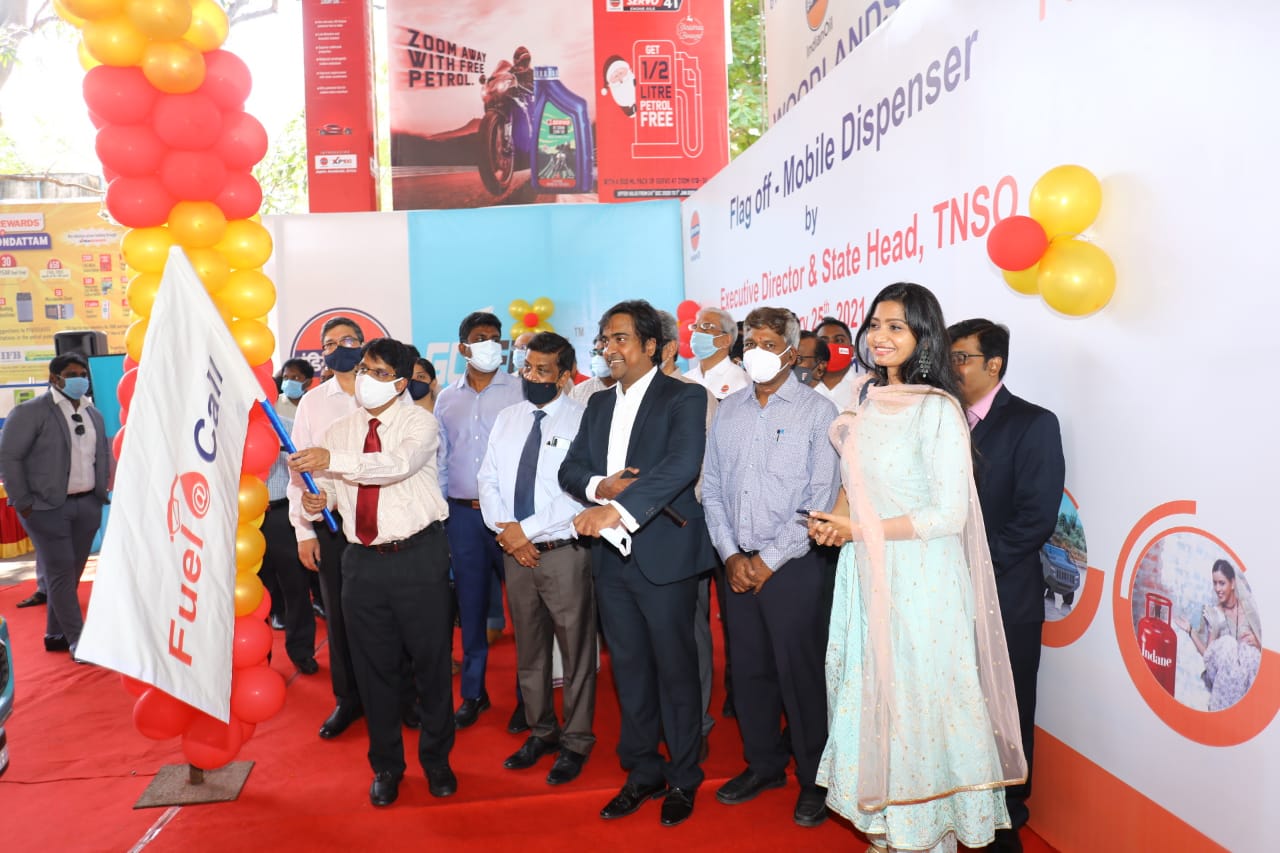 GoFuel India Pvt. Ltd., a start-up, a Fuel-Ent commences delivery of High-Speed Diesel (HSD) at the customer's doorstep. In July 2020, an Expression of Interest was floated by Indian Oil Corporation Ltd., for Fuel Entrepreneurs to Deliver High Speed Diesel (HSD) at Doorstep. GoFuel was selected as a vendor for enabling an efficient Diesel supply model on customer demand through an app or through the web.
The solution envisaged by IOCL for this model of 'mobile fuel pump' will address the following factors:
• Increasing demand of fuel especially for static consumers (Generators, Industries, Agri-based businesses)
• Limited scale-up of Petrol Retail Outlets – not commensurate with the demand
• Less safe practices during transit & storage of fuel currently
• Dead mileage & pilferage caused due to current gaps in supply chain
• Increasing Contactless transactions & movement to digital-based purchase models
In line with IndianOil's 'Vision with Values', the innovative, tech-based solution from GoFuel takes the afore mentioned challenges head-on, to become a preferred Oil Distribution Company in the country.
The flag-off of the GoFuel Smart Trucks from IOCL's flagship Retal Outlet in the heart of Chennai – Woodlands Enterprises at R.K. Salai, Mylapore. The inauguration took place in the presence of top brass from IOCL, Executive Director & State Head TNSO – Mr. Jayadevan ; General Manager – State Retail Head – P. Kumaravel; General Manager State Retail Head -R. Suresh ; General Manager – Retail Sales Chennai Divisional Office – Mr. Abhishek Sharma ; Deputy General Manager – Fleet Marketing – D. Suresh Kumar ; Senior Manager Retail Sales – Mr. J. Cavin.
Also gracing the occasion were the entire top brass from N S Rama Rao Body works, who custom-built the first lot of vehicles for Diesel Delivery purpose. GoFuel is proud to partner with N S Rama Rao Body Works for their keen insight and years of experience in this domain. GoFuel's brightly colored Smart Trucks, which are IoT enabled Bowser tankers, are unmissable and bring a freshness to the roads, marking its unique character in our entire supply chain!
Mr. Vinodhraj, Founder & CEO, GoFuel, briefed about the continuing partnership with IOCL, starting with Chennai as a Pilot market. GoFuel has a region-wise, targeted scale-up plan, in the next 18 months to enable it to become a nation-wide distribution network.
Technology adaptation will play a key role in success in this domain. The GoFuel mobile app and technology solutions framework, uses the latest available systems for better security of fuel during transport & supply. There was a live demonstration of I-Lock mechanism with IoT connectivity . This technology ensures OTP-based supply upon customer order, thereby avoiding any pilferage. Such aspects will play a major role in saving a great amount of time, energy and, of course, fuel for our customers, since the efficiency which we bring to the supply system is immense. Also, the amount of fuel saved by the user due to zero-dead-mileage is considerable.
The zone-wise demand in Chennai was showcased – this is coming from Bulk diesel consumers like Industries, Large Apartment complexes, Hospitals, Malls, Banks & Warehouses. Our next step in the mid-term, is to multiply our fleet and enable better connection with the remote & rural sectors in our country, where diesel is always in demand for agriculture, power generation and for transport.
This opportunity provided by the Government of India and being led by IOCL's expert team, we are hopeful that, this network will not just cater to diesel demand, but also open to other opportunitiesin the energy and gas Industry. In future, GoFuel aims to diversify to become one of our country's and possibly the continent's largest fuel distribution network!
GoFuel has acquired an Expression of Interest (Investment) / Letter of Engagement, amounting to a seed funding of Rs. 100 Crores (USD 14 Mn) by a large investor from the Middle East, to deploy 1000 Smart Trucks pan India by 2023. GoFuel is keen to be part of the Energy revolution and is recruiting Potential Partners (GoFuelers) from all corners of the country, who can be a part of this exciting journey – a journey which has just begun.