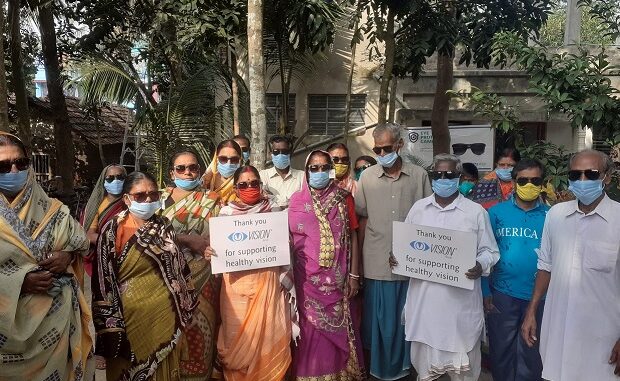 India: Vision Rx Lab, one of the largest ophthalmic Rx lens manufacturers in Asia, a joint venture with Essilor, has been conducting a series of CSR initiatives in its endeavour to raise awareness on eye health & eye-care amongst the under-privileged and extends free vision solutions to those in need under its CSR mission.
In India, several sections of the society don't have access to proper eye care services and often there is lack of proper awareness on key issues related to vision and visual health. Out of the world population of more than 7 Billion, nearly 2.5 Billion people suffer from uncorrected refractive errors. India being a largely populated country certainly requires attention in this regard. About 495 million Indians require vision correction.
Vision Rx Lab has been aiming to bridge the gap through its welfare initiatives in various pockets of rural and suburban regions across the country. Its CSR mission campaign includes free Eye-Screening Camps for free eye-tests, wherein free spectacles are given to those who were detected with eye-power and Eye Protection Camps where free UV protected sunglasses amongst the underprivileged to help them keep their eyes covered from harmful UV radiation.
Following the current pandemic, with the necessary social distancing norms in place, Vision Rx Lab has resumed its CSR measures with focus on ensuring eye protection from harmful UV radiation, as current Covid-19 protocols is not conducive with eye-testing and screenings. The harmful effect of ultraviolet rays is still an untouched issue and many are not aware and often don't own a pair of protective eyewear. Vision Rx Lab being a pioneer in eyewear solutions, aim to educate masses and bridge the gap of the availability took this initiative and organised such camps for people in underprivileged areas. Through a series of eye protection camps it had distributed free UV protected sunglasses to the disadvantaged sections to help them keep their eyes protected when outdoors.
With rising issues of global warming and harmful effect of UV rays, it is extremely important to educate the masses on the need of UV protection glasses. While UV exposure is a good source of vitamin D, it is not gentle to the eyes. Studies suggest that overexposure to UV rays increases the risks of eye related diseases such as cataract. To check the spread of such unwanted risks, Vision Rx lab undertook the task and initiative to educate the masses in this area and provide them with products to make them understand its need and utility. Starting with West Bengal, the CSR team has organized 25+ Eye Protection Camps and distributed thousands of free UV protected sunglasses in the villages of Bankura, Kharagpur, Howrah, Purulia, Jhargram, Midnapore, Nadia, Burdwan and 24 paraganas (N) in association with NGO's and Trusts.
Ms. Pammi Jamalpuria, VP-Corporate Marketing, Vision Rx Lab, said, "At Vision Rx Lab we endeavour to provide better vision solutions for all. The issues related to eyes have always been ignored and there is not much awareness about the need for protection from harmful UV rays. We are hopeful to educate and inculcate the need among the people, including the underprivileged. There is a lack of awareness in every stratum. We intend to make a difference in people's lives by creating such awareness and addressing the need for healthy vision for healthy living through our welfare camps".