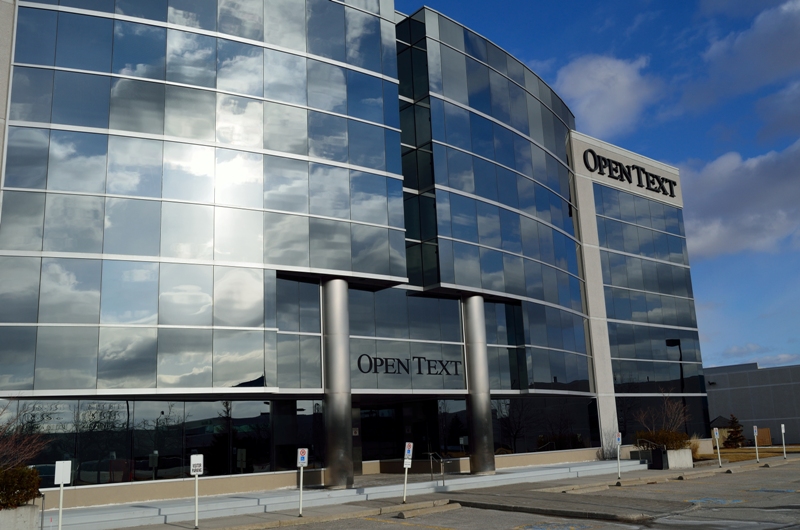 OpenText™ (NASDAQ: OTEX, TSX: OTEX), the global leader in Enterprise Information Management (EIM), today announced that it would seek to grow its employee base in India, hiring computer and software engineers in both Hyderabad and Bengaluru. OpenText has also announced the opening of a new 140,000 square foot office in Bengaluru.
With offices in Hyderabad, Bengaluru, Pune, Delhi and Mumbai, OpenText has a total workforce in excess of 2200 employees in India working on next-generation technology across Information Management, Business Networks, IOT, Security and AI.  OpenText supports a range of customers including six of India's largest life science companies, leading banking and financial services organisations, global manufacturers, as well as telecom, utilities, and government and public sector organizations.
With a decade of experience, OpenText's India workforce are skilled software engineers and professional services experts, working on core product innovations across OpenText's EIM portfolio.
"India is hugely important to OpenText and core to the operations and success of our global business," said Mark J. Barrenechea, vice chairman, CEO and CTO, OpenText. "We are privileged to have access to such a talented workforce in Hyderabad, Bengaluru and in other cities, helping OpenText to build software that will drive the future of digital. I am honoured to be in India this week with our employees, customers and partners."
"The world is changing at an incredible pace and the opportunities for Indian businesses to grow, differentiate, and compete have never been more dramatic than they are today," continued Barrenechea. "By combining enterprise information with the Internet of Things, artificial intelligence, extreme automation and hyper-connectivity, OpenText is helping our customers to drive strategic business transformation by harnessing the power of their information."
 OpenText employees in India work closely with engineers, computer scientists, product and professional services experts across the company's global offices including OpenText's Headquarters in Waterloo, Ontario, Canada; San Mateo, California, USA; and Munich, Germany.
 Isaac Rajkumar, Managing Director, OpenText India commented, "Across all OpenText business units, from our core technologies of enterprise content management, customer experience management and business process management (BPM) to OpenText's latest innovation in artificial intelligence, low-code development and business networks, our engineers, professional services and customer support teams in India have been instrumental in the success of OpenText and our customers."
 "OpenText is recognized as a global leader in Enterprise Information Management and we are delighted to partner with them not only in India, but around the world," commented Krishnan Ramanujam, President, business & technology services, Tata Consultancy Services (TCS). "OpenText's commitment to the Indian market, and its impressive talent across engineering, professional services, and customer support, will enable OpenText and TCS to develop and deliver innovative solutions that allow our shared customers to realize their digital ambitions."
 In addition to the company's world-leading engineering and professional services capabilities in India, OpenText has an established commercial operation with offices in Delhi and Mumbai. OpenText is helping leading Indian organizations such as Wockhardt Ltd., Glenmark Pharmaceuticals, Cipla Limited, The Tata Power Company Limited, Tata Power-Delhi Distribution Ltd., and DHFL Pramerica to define and drive their digital transformation strategies.
 Innovative insurance provider DHFL Pramerica Life Insurance has been working with OpenText in India on a large-scale digital transformation project that has digitized key business processes, customer and partner experience and service delivery. Anoop Pabby, Managing Director & CEO of DHFL Pramerica Life Insurance commented, "DHFL Pramerica's close partnership with OpenText has enabled the company to realize our strategic ambitions and drive the process of digital transformation across the organization. Our customers are demanding a dynamic digital experience and working with OpenText is key to shifting our operations to a digital-first approach and helping DHFL Pramerica to manage our rapid growth."
 India is also home to OpenText's Professional Services Center of Excellence, a vital element in ensuring successful deployment of customer solutions worldwide.
 "OpenText's rapidly growing Professional Services Center of Excellence in India employs over 500 consultants and engineers, solely focused on solving the complex digital transformation challenges facing our customers," commented Manoj Nagpal, Vice President, professional services, OpenText India. "Our rapidly-growing team provides a range of expert services that cover the full software and services lifecycle, including project management; consulting and implementation; managed services; custom development and quality assurance."