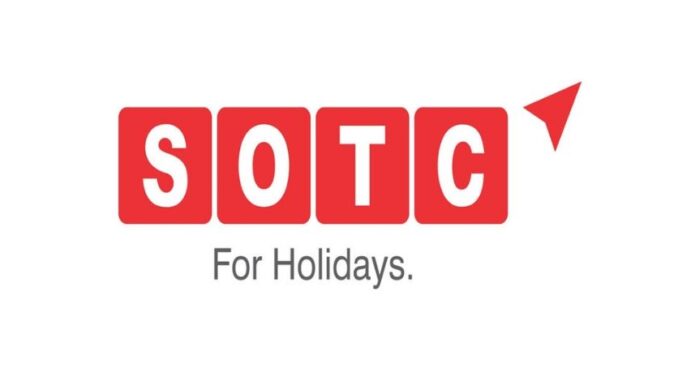 Goa, May 5, 2022: SOTC Travel, a leading omnichannel travel and Tourism Company further expanded its footprint in India with the inauguration of its new franchise outlet at Panaji earlier today. Having a strategic focus to tap into Goa's high potential market, the Company's new outlet is located at the heart of the city and will cater to all of Goa.
Goa features an upcoming source market for SOTC Travel and caters to the growing demand from multigenerational families, millennials, officials and business owners. With the pandemic putting a halt on international travel, customers are once again planning their long awaited holidays for the upcoming summer season. In the new normal, customers are seeking guidance and reassurance of holiday experts to navigate through the dynamic changes in travel and health protocols. And hence to support and guide customers from Goa, SOTC Travel's expert holiday planners will provide the much needed assistance to customers and help plan the perfect holiday. ]
Additionally, to strengthen customer confidence in travel, SOTC's safety commitment, "TravShield" – with only vaccinated staff and co-passengers among many other precautions, builds on its "Assured" travel safety protocols – developed in association with Apollo Clinics. TravShield & Assured together, ensure best in class safety and protection for travellers in the post Covid era, covering every distribution, delivery and partner touch point in the travel ecosystem.
SOTC Travel's internal data indicates 68% of Goans are keen to take a summer holiday and to cater to the strong pent-up demand, SOTC Travel has introduced an array of special offers like Buy One Get One – Companion Free South East Asia Special, air-inclusive holidays, ready to book and customized air-inclusive holidays with Air Arabia, Emirates Holidays and Vistara Getaways. Customers are also displaying growing interest for group holidays, eclectic stays, experiential holidays, domestic cruises and biking trips.
Long and mid haul destinations driving demand from Goa include Europe's Switzerland, France, Italy, Spain, Belgium, Netherlands and Austria; United Kingdom, USA (for visa holding customers), Canada, Australia, Turkey and Egypt; equally short haul favourites include South East Asia's Singapore, Thailand, Malaysia; equally Dubai, Abu Dhabi, Yas Island, Maldives, Mauritius and Nepal. Domestic summer favourite locales are Kashmir, Himachal Pradesh, Uttarakhand and the North East – the Seven Sisters and Sikkim.
SOTC Travel's new outlet offers end-to-end travel solutions with an array of services, including: International & Domestic Holidays (Group tours, Personalised Holidays, Cruises, etc.), Value Added Services like Travel Insurance; Visa Services, etc.
Contact Details
SOTC Holiday World
Heritage Symphony, A Block,
Near Axis Bank, Caranzalem, Panaji – 403002
Mr. Daniel D'souza President & Country Head – Holidays, SOTC Travel said, "Goa is emerging as a strong source market for SOTC and we are delighted to associate with Mr. Farid Veljee as our franchise partner for our new outlet at Panaji. Customers from Goa have displayed over 3x growth in demand since the pandemic. To inspire the evolving travellers of Goa take their much needed holiday, our new outlet in the heart of the city was chosen to leverage its significant catchment across multigenerational families, millennials, officials and business owners." 

He further added, "Being a travel enthusiast and having an extensive network in the region, Mr. Veljee will assist SOTC to further strengthen our presence in this growing market and thereby assist our customers plan a perfect holiday. We extend a warm welcome to our customers and our in-store experts look forward to co-curate and plan a memorable holiday for the upcoming summers."