Panaji, April — Young Tennis stars Darsh Pai and Tithee Bhoomkar were the toast of the state-ranking TNS PG Open Tennis tournament at the Panjim Gymkhana, winning two titles each in the men's and women's under-14 and under-18 age categories respectively. Young talent stole the show this year at the TNS PG Open Tennis Tournament with their impressive gameplay.
Another outstanding player who stole the show at the TNS PG Open was Bulu (Rajendra Goudhino). Bulu displayed excellent sportsmanship winning three different titles across various categories namely men's doubles, mixed doubles, and veterans' doubles in the 45-years plus category.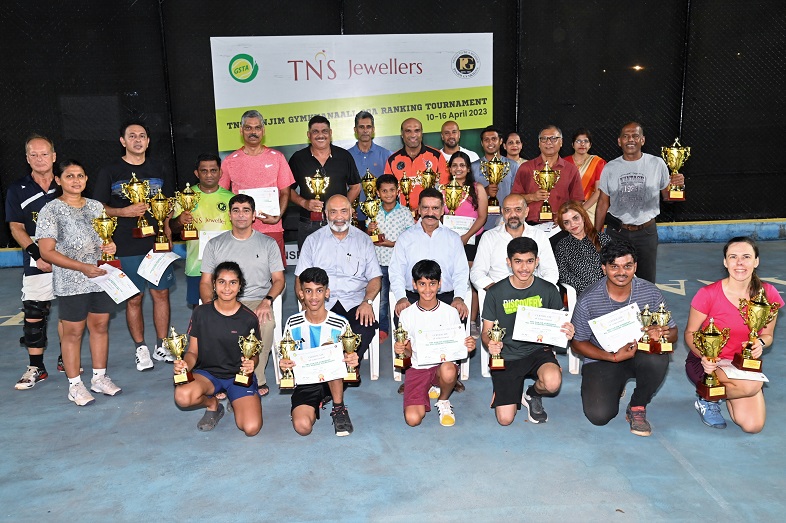 The TNS PG Open Tennis Tournament showcased amazing sportsmanship as close friends Tithee Bhoomkar and Vidhi Naik competed for the trophy. Three overpowered her close friend Vidhi Naik in the under-14 category winning (4-0, 4-0) and also won the girl's under-18 title defeating Vidhi (6-4, 6-3) once again to complete a double in the tournament.
Darsh Pai also finished off the tournament in a similar style in the boy's under-14 and under-18 categories.
In the finals of the boys under-14 years category, Darsh Pai easily overcame a challenge by Vivaan Agarwal (4-1, 4-0), while also defeating Gauraang Phutankar (6-3, 6-3) in the boys under-18 years category.
In the lady's singles final match, Manuela Gomes made light work of her opponent Tanya Shelyazhynska-Caldeira (6-1, 6-0) to win the crown, while Tejas Shevde also broke little sweat against his opponent Suraj Sadanah in the men's singles final, winning the match (6-0, 6-1).
In the men's doubles final, the pairing of Bulu and Richard Lockhart Smith defeated Sachin Dukle and Raju (Rajaram Kundaikar) in a long-drawn match that stretched into three sets.
While Bulu and Richard lost the first set 5-7, the pair won the second set 6-3, before the match spilled into a super tie break during which one of their two opponents, Sachin, had to retire with cramps.
The mixed doubles are final was won by Bulu and Tanya Shelyazhynska-Caldeira who defeated Santosh Gorawar and Archana Desai (4-0, 4-2).
In the veteran's category, Mano Chhabra won the singles final in the 45 years plus category defeating Richard Lockhart Smith, while Bulu and Mano Chhabra defeated their rivals Sachin Dukle and Kevin Rebello in the veteran's 45 years plus doubles category.
In the men's 55 years plus veterans doubles finals, David/Sanjay beat Sameer/Sandeep (6-1, 7-5). While the David-Sanjay pair won the first set easily, the winning duo had to survive a fightback from Sameer Kakodkar and Sandeep Verlekar, who stretched the second set to 7-5.
Nearly 140 Tennis players across eleven categories participated in the state ranking Tennis tournament.
The tournament was co-organised by the Goa State Tennis Association and the Panjim Gymkhana.
ᐧ