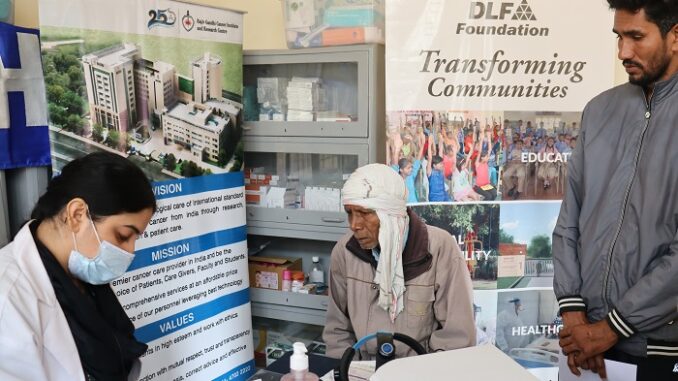 December 2022, Gurugram: DLF Foundation, the CSR arm of India's leading real estate developer DLF, organized a cancer screening camp for underserved communities at the Family Health Center in Gwal Pahari in Gurugram today. This humanitarian initiative by DLF Foundation is part of their mission to develop sustainable healthcare and social welfare programs focused on underprivileged demographics across the Delhi-NCR. For this outreach endeavour, DLF Foundation partnered with Adharshila and Tanisa Foundation to provide expert testing and screening facilities at the grassroot level.
Sharing her insights, Ms. Gayatri Paul, CEO, DLF Foundation said, "Cancer is spreading at an alarming pace and if detected timely, it can save lives. Very often, due to societal taboos and misinformation, patients tend to hide or ignore symptoms and hesitate in seeking professional treatment. This cancer screening camp is part of DLF Foundation's ongoing outreach initiative to ensure cancer screening is made available to the underserved communities. Through this initiative, DLF Foundation aims to not only provide free testing and screening facilities to the underprivileged, but also spread awareness and dispel the stigma and misinformation around this disease"
This special initiative by DLF Foundation was organized with the aim to spread cognizance towards cancer and the importance of early screening. During the camp, a plethora of experienced medical professionals from Tanisa Foundation conducted an array of tests, which included clinical oral examination by ENT specialists, as well as PAP smear test and clinical breast examination by veteran Gynecologists. In addition to focused cancer screenings, the camp also provided a panoramic spectrum of health checkups to 125 attendees. This included tests for blood sugar, blood pressure and mammography tests by certified diagnostic laboratories.
Speaking on the importance of cancer screening, Neena Jolly, Trustee, Adharshila said, "I would like to thank DLF Foundation for giving us this opportunity to conduct a Cancer screening camp in collaboration with Tanisa Foundation, Rajiv Gandhi Cancer Institute, Clove Dental Clinic and Rotary club of Delhi Inspire at our Gwal Pahari Family Health Center. We received an overwhelming response from the community who were extremely happy to be screened for overall health. The team was extremely cooperative and we all did our best to leave no stone unturned to cater to the community's needs. Through our collaborative efforts, DLF Foundation and Adharshila would continue to reach out to vulnerable, below poverty line and migrant communities in Gurugram to enhance the well-being of the communities through focused interventions."