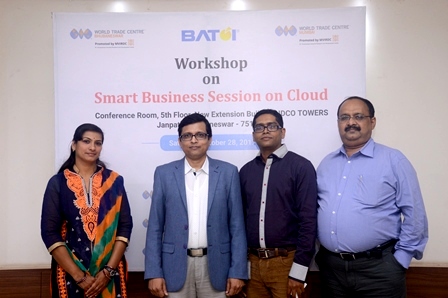 World Trade Centre Bhubaneswar in association with Batoi Systems Pvt. Ltd. organized a workshop on "Smart Business on Cloud" here on 28th October 2017. The workshop was organized with an objective to create and enhance the awareness of MSMEs on the usage of Cloud as a shift in the consumption and delivery of IT with the goal of simplifying the process more efficient. The session provided an insight on how to reorient business processes with the help of cloud computing and analytics. The talks and demonstrations thus aimed at helping the
entrepreneurs to understand the best practices and tools to achieve greater productivity in their business.
While facilitating the workshop Mr. Ashwini Kumar Rath, Founder Director & CEO, Batoi Systems Pvt. Ltd. through his presentation portrayed the various usages and implications of Cloud. His deliberations emphasized on the need for a website, a mobile app, an e-commerce storefront and enterprise software tools to manage data and workflow for a business, for the purpose of which the Cloud Platform could be readily used.
He further through a demonstration shared the details on how the platform enables users to build, deploy, use and manage cross-device software applications on the cloud, without any upfront investment thereby ensuring that they do not face any extravagant costs and without any large capital investments. Understanding the varied need of the users, the platform with specific tools enables users to customize the software apps to handle specific workflows and software usage.
Earlier in her welcome address while introducing the facilitator of the workshop Mr. Ashwini Kumar Rath to the august audience deliberated on the importance of constant upgradation of business practices by MSMEs in order to remain sustainable as well as competitive in the global markets. She further highlighted that WTC Bhubaneswar has been enduring to hand hold the MSMEs of the state on various aspects of business performance. She also took the opportunity to thank Batoi Systems for coming forward to be part of such an indispensable workshop.
The workshop was attended by a cross-section of entrepreneurs from various sectors relating to manufacturing as well as services. A lively interactive session towards the end of the deliberations added immense value to the workshop.