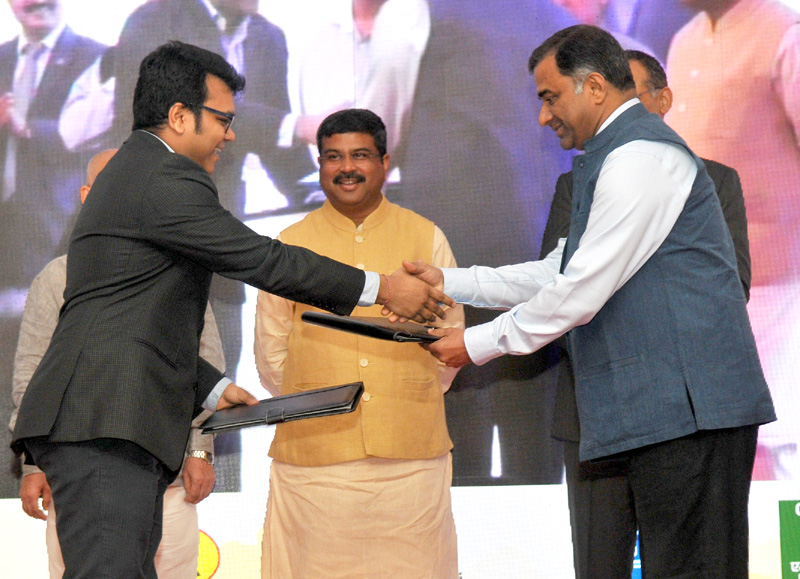 Minister of Petroleum and Natural Gas, Skill Development and Entrepreneurship Shri Dharmendra Pradhan has said that it is important to develop new business models, marketing plans, technology and innovations in the sector. For the same, the oil and gas PSUs have set up venture capital funds to encourage start-ups based on innovative ideas in the energy sector.  Speaking at the launch function of Start-up programme for entrepreneurs in oil and gas sector here today, he said the initiative will change the status of the youth of our country from job seeker to that of job provider as envisaged by Prime Minister Shri Narendra Modi. Shri Pradhan said the business partnership between the start-ups and the PSUs of Petroleum Ministry will create a new benchmark for growth and job creation as India has a huge potential for the investment of over USD 300 bn in the energy sector in the next ten years.
He said, start-ups in the oil and gas sector are not short-term investments, but a long-term commitment. There are a wide variety of opportunities that present a wide spectrum of options for launching start-up initiatives. The Minister said the government is committed to provide clean energy to every household of the country and in the last 15 months 3 crore LPG connections have been provided under the Pradhan Mantri Ujjwala Yojana (PMUY). He said in the next 15 months, a target of providing more than 4 crore electricity connections has been set under the 
Saubhagya Scheme
. He called upon the oil PSUs to take advantage of the emerging technologies in the oil sector with the help of the youth to match the international standards.
CEO, Niti Ayog, Shri Amitabh Kant, Secretary DIPP Shri Ramesh Abhishek, Secretary, PNG Shri K. D Tripathi, Academicians, Chiefs of Oil and Gas PSUs and young entrepreneur were also present on the occasion.
Backing the spirit of innovation, 10 public sector undertakings under the Ministry of Petroleum and Natural Gas, including the IOCL, ONGC, EIL, OIL, NRL, BPCL, HPCL, GAIL and MRPL, have created a corpus of Rs. 320 crore to support start-up initiatives.
Since the launch of the scheme by the PSUs, there has been a constant flow of applications and some extremely innovative ideas have come through. The Startup ideas have been received from a varying age group (from a fresh engineering graduate to a 70-year-old entrepreneur) from across the country.
The 10 oil PSUs have together selected nearly 30 start-up projects for support in the first round of the scheme. Some of the many innovative projects that have made it after rigorous evaluation include:
·         Electronic leak detector for detecting body and bung leak of LPG cylinders
·         Self – sustaining low-maintenances toilets, or eco-toilets
·         Multiuse Fuel from Agricultural Waste Biomass
·         Remotely Operated Vehicles (ROVs) for underwater inspections
·         Converting waste plastics to high value petroleum fuels
·         Solar Stove- Revolutionary Day and Night Indoor Solar Cooktop System for all lifestyles