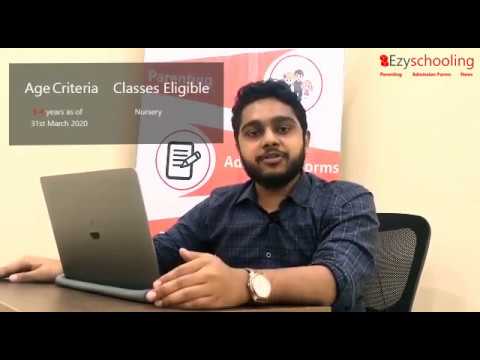 Ezyschooling is a unique tech-enabled multi-utility platform for parents and schools aiming at facilitating them with relevant information about admissions and news, along with all aspects of parenting which keeps them informed, educated, and inspired!
Ezyschooling is a platform that has various fields that parents and schools can share.
ADMISSION: With a platform like Ezyschooling parents can enroll for school admission at any hour of the day. Also, the USP is that a parent needs to fill only one common admission form for any number of schools in Delhi/NCR. There is 100+ schools and 15000+ parents that have already associated themselves with Ezyschooling.
PARENTING: Ezyschooling believes that the toughest journey of human life is parenting and thus supports them in their parenting journey through experts from various fields such as psychology, nutrition, education, and career. There are various insightful articles with detailed suggestions and growth milestones of a child at different age groups right from a newborn to 18 years. Ezyschooling has a YouTube channel where expert videos (parenting insights, Dadi Nani ke gharelu nuskhe, nutrition, and school admission) are uploaded covering different aspects of parenting.
NEWS: Ezyschooling shares daily news feed from the state, country, and world that is relevant for a parent which helps them cut through the clutter of the various sensational news doing rounds. We also separate columns for interviews. A motivation column- ACHIEVERS OF THE MONTH for children excelling in a different field is a special feature.
EZY RECRUITMENT: It is an Online Teaching Jobs platform where teachers can apply to various teaching jobs in a single click & Schools can post vacancies for different job openings.
A lot of challenges came in the way of setting up and scaling but the efficient team at Ezyschooling made sure we got through!
Team: Getting a team who puts faith in a startup and works towards the larger vision of the company is never easy. Hence, motivating all team members with their individual growth and hard work and repeated briefing on the vision helped tremendously to keep the team and the teamwork in perspective.
Confidence: My interaction with various schools and a wide variety of parents has helped Ezyschooling gain confidence. In these 4 years, they have shown their trust in what we offer, and this family has grown multiple folds. From 23 schools in 2018, we have grown to 150+ schools in Delhi/ NCR.
Most schools did not have any kind of brand awareness. So, persuading them to come to our platform was a 50-50 chance. Initially, we invited schools for free, and later with the numbers increasing, schools started approached us for collaboration.
Brand awareness amongst schools and parents was close to zero at the initial stage but after being recognized by schools and later by media, it helped along to build brand awareness among parents. We have been featured in quite a few leading dailies like INDIAN EXPRESS, HINDUSTAN TIMES, and PUNJAB KESARI to name a few.
Web security for both parents and schools is a very important aspect for us, so we structured our working system and updated ourselves with software and technology for analysis.
We got the idea of Ezyschooling during nursery admission of my nephew a few years ago. I saw how his family was struggling day and night for his admission which made me quite anxious to work in this field. I, along with some of my friends started Ezyschooling as a project for a competition organized by Google for entrepreneurs. Continuing with my studies, I worked for 16 hours a day. The night was more about developing and the day would pass by collaborating with the school.
While working on the project I also discovered how parents are facing day to day problems in parenting and they were quite unaware of relevant news and events near their residence, thus resulting in relying on word of mouth. Hence, expanded the services offered from just school admissions to Parenting, News, and events as well.
The eureka moment arrived when the first school came forward to collaborate, it validated with the very idea of Ezyschooling. The next one was when parents started to use the diversified platforms on the website and revisited our pages from time to time. It felt like they embraced the idea of Ezyschooling.
We also have started with Ezyrecruitment. It is an online teacher hiring service for the schools. We have more than 3000 teachers and 60+ schools within a span of 6 months from the date of start.
Let us get a background about the core team of Ezyschooling.
Mayank Jain is the Founder and CEO at Ezyschooling. He is a B.Tech. Engineer in Mathematics and Computing from Delhi Technical University (Formerly known as Delhi College of Engineering). I completed my engineering in 2019.
Since its inception, we have had a hardworking team. Kartik handles the technology, Vibha is responsible for Human Resource and bringing skilled talent in our family, Roshni for expanding our reach through her expertise in marketing and Ashit for coming up with the creative content for our social media platforms.
We provide a one-stop solution for the parents whereas any other platform does not have such an eclectic combination of features such as ours, (admission, parenting, and news) all at one place.
Even our content is insightful and interactive compared to our competitors. We understand the fact that the new age parents and what kind of content they need to go through for admissions/ parenting/ news and events. Majority of parents on our site are SOLOMO – Socially Locally Mobile and thus our offering is gaining traction among them.
Ezyschooling is a seed-funded firm, where all the investment comes through kith and kin. We get our revenue through brand advertisements, paid advertisements for schools, and convenience fees from parents.
Our key clients are:
Mayur Public School
Guru Tegh Bahadur Public School
Billabong High International School
Arwachin Bharti Bhavan
The working of Ezyschooling is very user friendly, anyone who comes on our platform for admission process just needs to register themselves with the website and then add any number of schools to the cart. They can then apply to the selected schools by filling a common admission form and end their process by making payment for all the schools they have applied to and a minimal convenience fee for Ezyschooling.
As far as parenting is concerned, they can access our content without even registering with us, all they need to do is choose the age group of their child so that they land along with the relevant content. If they wish to see the related videos they just need to click on the video, and they are redirected to our YouTube channel.
When a parent comes to our platform for news and events, they can access all the relevant news updates and events for their child.
Ezyschooling was looking forward to expanding in Mumbai and Pune by the start of 2020. However, in the light of the pandemic, we have shifted our focus on B2C i.e. business to customer model focusing on building our reach. We are conducting online webinars, summer school camps, and other activities. We surely are looking forward to going back to our old ways while having some new tricks with us.